Last Updated on 2 years by Go Review Rite
A few days ago, I was chatting with a friend, who's the Social Media Marketing Manager of the energy distribution company in my region, about the hidden power of Pinterest.
Facebook, Instagram, Twitter, YouTube, and the rest have filled our minds that we forget how sharp a Pin is.
One clarification we got was that Pinterest is the best social media platform optimized to drive traffic (to your website) when compared to other platforms.
Yes.
Now, I'll show you why this is so, and how you can create pins that'd go viral as we look at…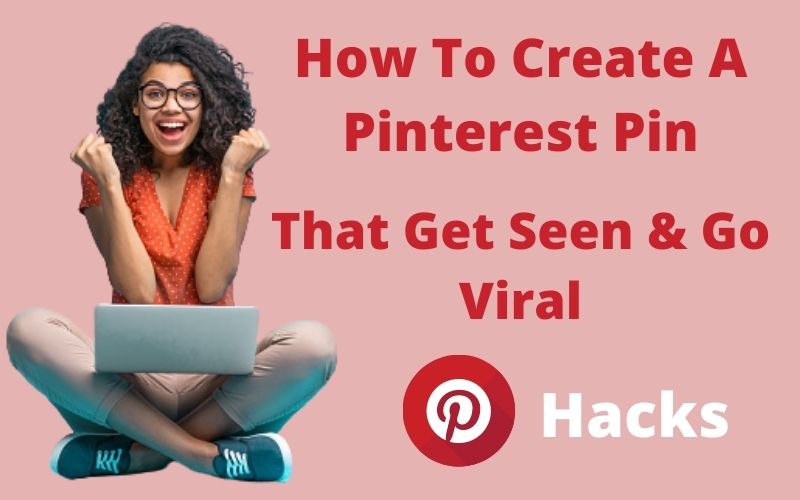 Why Pinterest is the king of all Social Media.
The best size for a Pinterest Pin.
Why Canva is a great tool for your Pinterest marketing strategy.
Step by step guide on How To Create A Pinterest Pin Using Canva Template
A Step By Step Guide to on how to create a Pinterest Pin.
Canva Pro vs Tailwind Create: which is best for making Pins?
Tips that make Pinterest Pins go viral & get seen?
Shall we begin?
Why is Pinterest the king of all Social Media?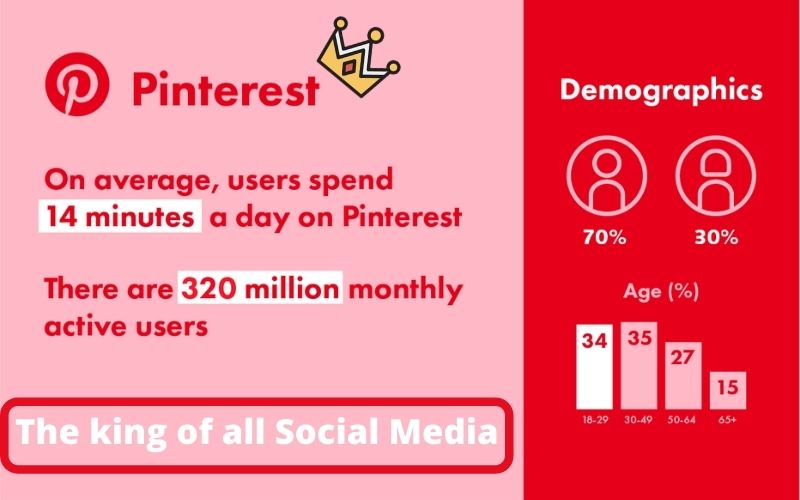 Currently, there are more than 450 million people who use the platform monthly. This increase has created the urgency for Pinterest to extend its services to other regions of the world.
Now that's not all… These demographics are amongst the most active social media users – born between 1981 and the early 2000s – giving it the same edge as Facebook and Instagram.
Another reason why Pinterest stands out is that most of its users have mobile devices which mean Pinterest is mobile optimized for the future of social media.
For every 24hrs, Pinners watch close to one billion videos on Pinterest.
Are you surprised?
To support this trend, the company recently introduced Pinterest Premiere ad packages, to enhance the targeting and reach of video campaigns.
I love this one: Pinterest is called "an online oasis."
Why?
People feel more positive on using it than any other social media platform due to its content moderation policy. Thanks also to the ban on political ads in 2018.
Just a few more reasons will convince you.
Pins are optimized to use the Google algorithm because of the titles the Pins carry. So the contents are more visible online.
Lastly, online advertisers place Pinterest as number one on overall reputation ahead of eight leading platforms.
Read this !
Google Core Vital Hit One of My Niche, See How I Tailwind For Pinterest To Increased My Traffic By 400% Between Jan 2020 And Jan 2021
You get the gist now?
Let's move on.
So, What Should Be the Best Size For a Pin?
Truly, this is tough to answer. But let's see those things that affect the size:
Changes made by Pinterest have affected the best size before.
If you've followed trends, you'll realise that there are times when the company announced changes in the sizes users can use. So if you follow the platform, like others, you'll get such updates.
The pixelation of your image.
You can have a 1:1 picture size with 450 x 450 pixels or 1200 x 1200 pixels, with the same 1:1. The latter will be better because it has higher pixels.
With the above, Tailwind and my best advice for Pin size is this:
Follow through by joining Pinterest online communities where such discussions hold.
As you use images, observe the analytics and make changes where needed.
Don't use images with pixels smaller than 1000 x 1500 (2:3) and larger than 1000 x 2100 (so it's not cropped by the app). The best kind is always one and one half to two times as tall as wide.
I hope you got it?
Why Canva is a great tool for your Pinterest Marketing Strategy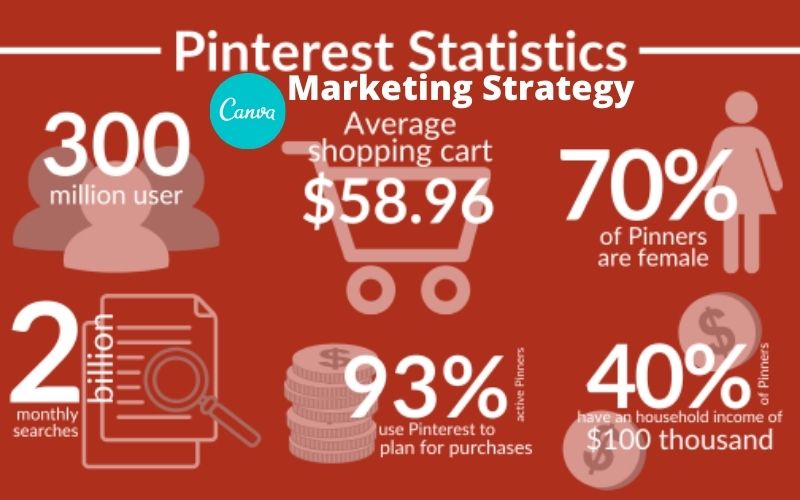 (If you notice, I didn't say "for Pinterest posting". I said, "for Pinterest marketing strategy". Posting is part of the strategy.
If you want us to share about how to create a marketing strategy, please let us know in the comment section.)
Please, if you have the Canva and Pinterest app, open them.
Hmmm… please be sincere.
Are they not looking like they are made for each other?
I've used apps like Spark Post by Adobe, … but none is better adapted for Pinners like Canva.
The templates of Pins on Canva can be edited in minutes and you have a beautiful Pin that's ready for use.
Super attractive content.
Another reason why Canva is good is its attractive templates. And Pinterest is not just about posting anything for the sake of posting.
Users are attracted to nice images. Canva gives you that for nothing.
With the Canva app, you have access to several ideas you can play with to create the Pin you want… from colours to sizes to images to videos and animations.
And remember that one of the future (if not present) of social media is increased video consumption.
It's worthy to note that these features on the Canva app are available for free or nothing.
How To Create A Pinterest Pin Using Canva Template
Step 1. Get Canva Account & Sign Into Canva
You need to sign up for either Canva free or pro plans, to access all Canva Templates.
After you have logged into Canva, you will be right there at your dashboard to find beautiful and high catching templates to start your designs.
Or you can choose a blank workspace to start from scrap. It depends on you.
Step 2. Select a Canva Templates To Start Design

Here you have two options, either you start with canvas blank workspace or choose some pre-made templates.
But using their templates may limit your creativity in designing your pin and also other people might have published similar designs on Pinterest, which cause duplicate pins or copyright issues.
So I strongly recommend not using Canva Templates unless you know how to customize it to your taste.
However, if you can't design a pin with Canva, then I think it's better you use Tailwind create instead.
3. Start Designing Your Pinterest Pin

Customizing and designing always seems to be very simple, because with Canva you can design like a Pro Graphics Designer.
Just start adding your images, changing fonts and colours, and adding your logo. (for getting free royalty images I recommend pixabay.com)
It might seem too hard, time-consuming and complicated for fresher that doesn't have any knowledge about graphic design,
It's highly recommended that you stick with Canva simple templates to start practising until you master how to use Canva effectively.
4. Download Your Design From Canva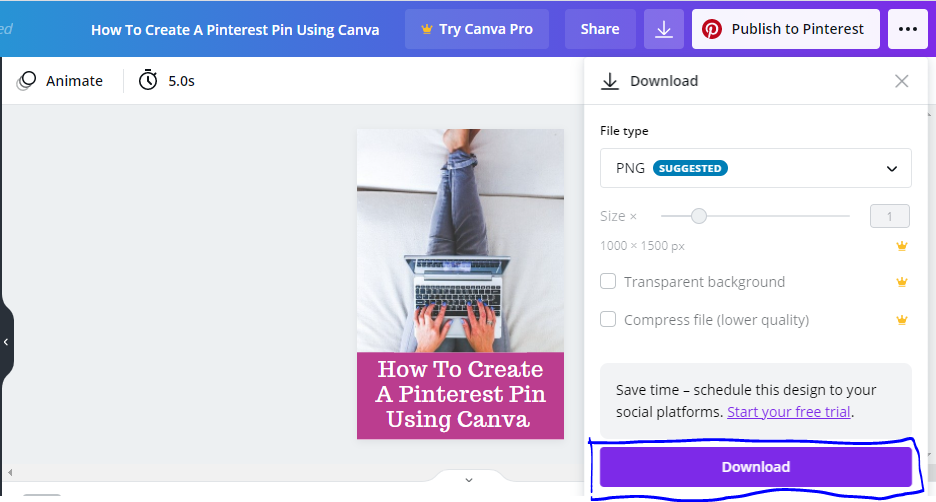 Once you are done with the customization and you are satisfied with the design, you have to download or export the design to your device.
I hope you know that Pinterest is a social media search engine, you need to optimize your pin for search engines
I suggest downloading your pin with the keywords name you intend to target in your pin.
Using generic names without your keywords will not make your pin go viral on Pinterest.
Next, is How Do You Create a Pin?
For most people, when they start using the Pinterest app, they do it for pleasure. But when it's business time, the game changes.
You don't just create Pins. You create optimized Pins to get the results you want.
That's the step I'll show you here.
First, I want to believe you have the app and you've signed up. If you have, then open it and…
1. Click the plus sign (+) at the top of your Pinterest profile.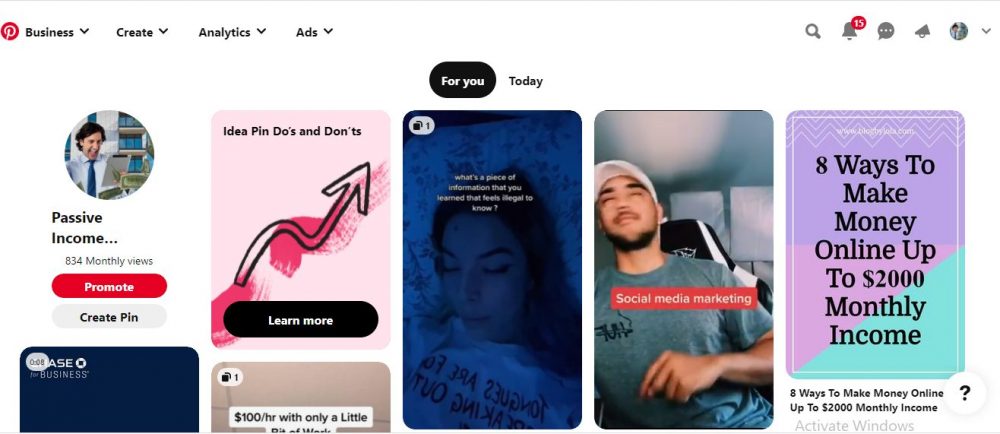 To create your first Pin, navigate to your profile by clicking your name and/or profile picture on the top-right hand corner of Pinterest.
2. Select "Create Pin" from the dropdown menu.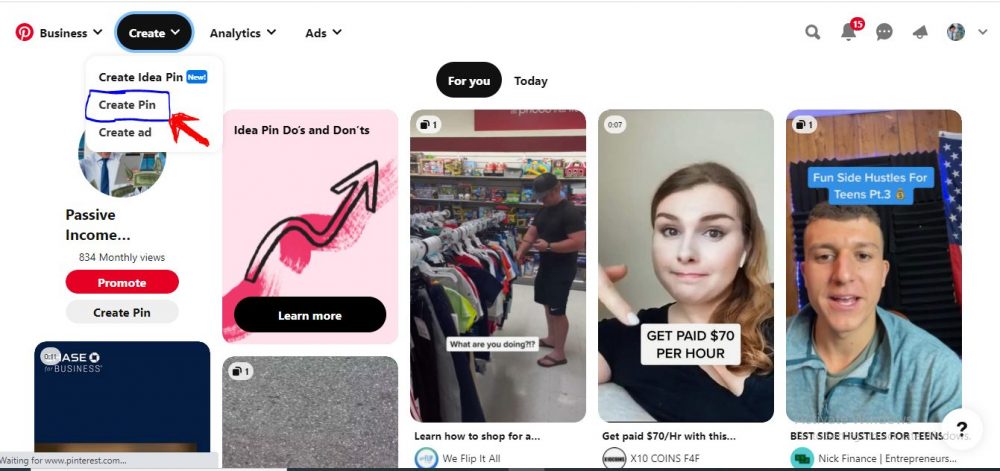 On your profile page, above the interest boards, you selected when creating your Pinterest profile, click the plus sign icon ("+") and select "Create Pin" from the dropdown menu that appears.
3. Upload an image file from your phone and add a destination link.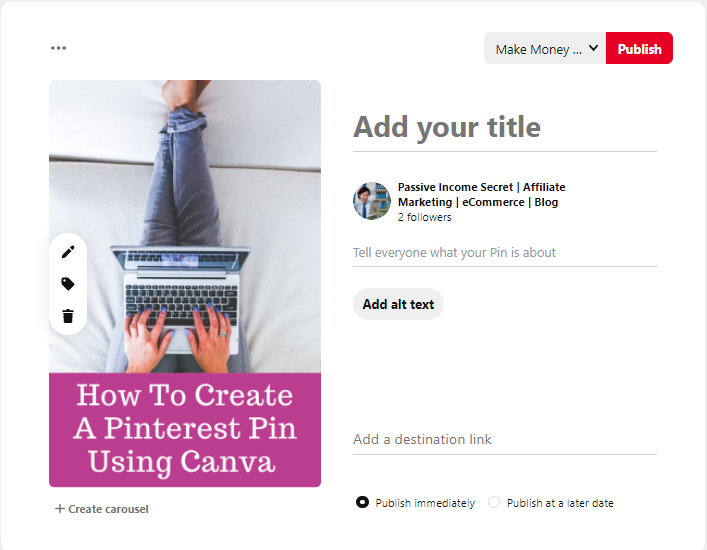 Once your image is uploaded, click "Add a destination link" on the bottom right-hand corner of the form and enter the website you want this pin to link to when users click on it.
4. Give your Pin a title.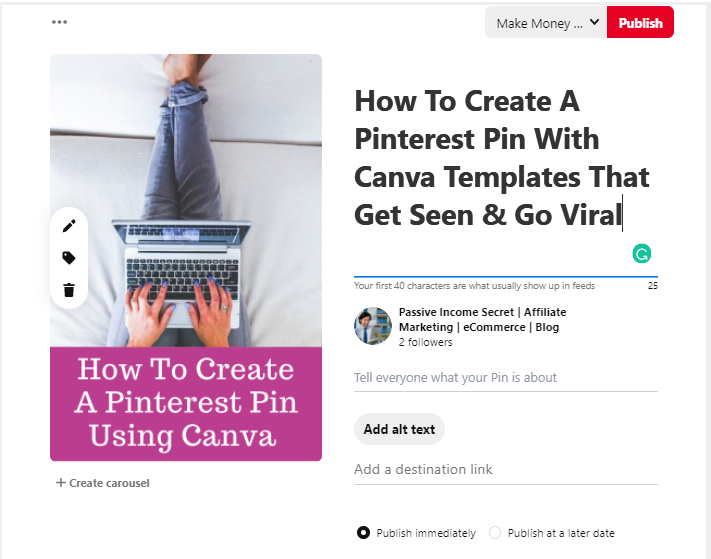 With your image successfully uploaded, optimize your Pin with the right text.
Click the "Add your title" preview text and give your Pin an enticing preview that best represents the content of your Pin — and the website to which the image links.
5. Add a description to your Pin.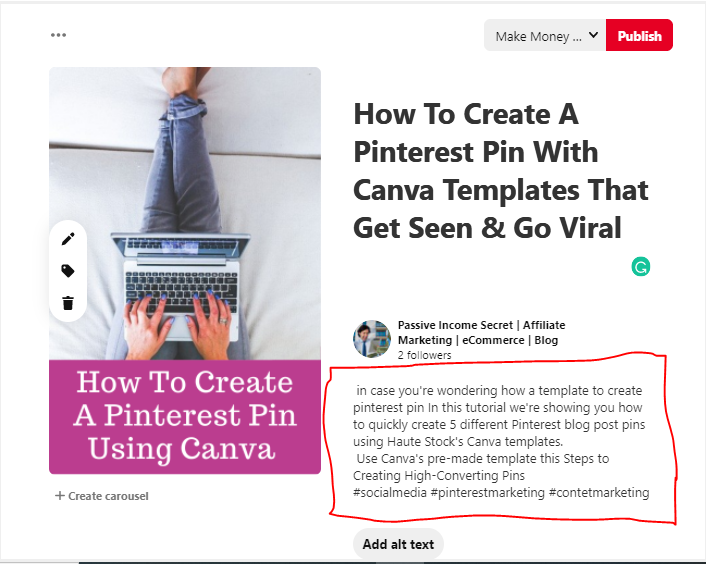 Add a description for your pin beneath your title.
Note that only the first 50 characters of your pin description will be seen by users.
6. Enter a destination link from which to save an image from that website.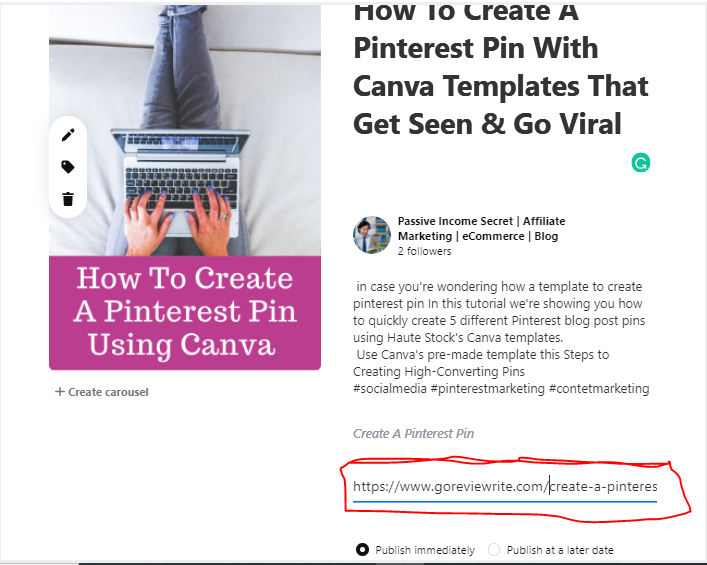 If the image you want to pin already lives online somewhere, click "Save from site" beneath the grey image-upload box, and enter the URL of the website.
This will be the website your image automatically links to when your Pin goes live.
In the window that appears, you might see more than one image to choose from — these are all the images Pinterest found living on the webpage you're linking to.
Scroll until you find the image you want to pin, and select it.
7. Select a Pinterest board to add your Pinto.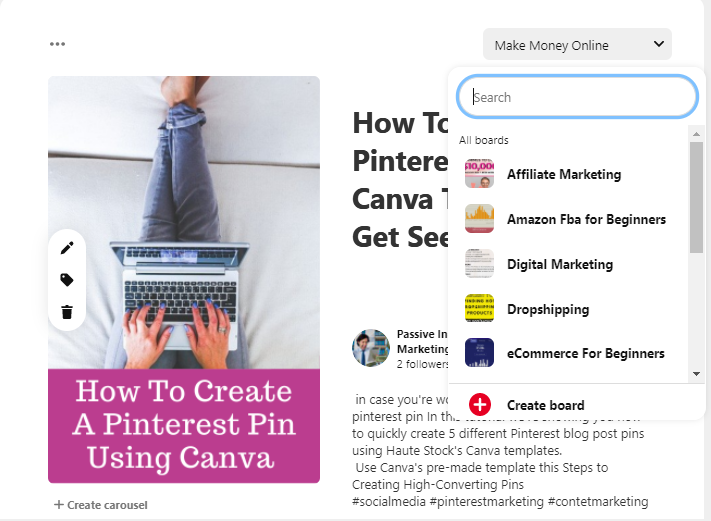 Before saving your Pin, add it to a "board." As a Pinterest user, you can create boards that sort your pinned content based on your interests.
To select or create a board, click "Choose a board" beneath your Pin's destination link.
You'll see a page shown above, that'll help you choose or create a board showing the type of content you're currently pinning.
8. Click "Save" to create your Pinterest Pin.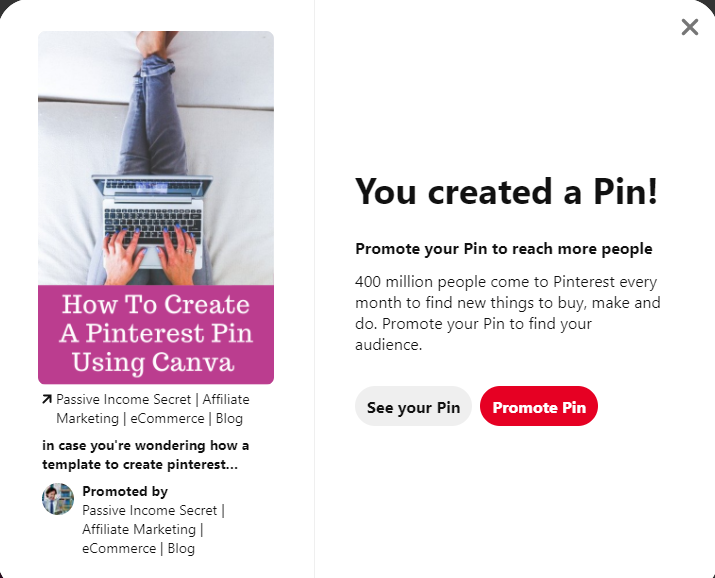 After selecting a board to add your Pin, return to the pin-creation form and hit the red "Save" button at the top of your screen.
Follow the prompts to push your Pin live, and you're good to go.
That's not all. Do these to have an optimized Pin:
1. Use a high-quality image
2. Remember that Pinterest users love inspirational, beautiful photos or graphics, or images that are extremely helpful, clever, or informational.
3. Make sure the image you're using is not deceptive. Let it be similar in content with the link you're attaching to the Pin.
4. Try to use UTM codes to help you track where your website traffic is coming from.
5. Yes, you can easily "steal" Pins on Pinterest.
That means you can share Pins from others. But to be safe and trusted, give credits to the creators.
And for your Pins, make sure to add all attributes there so that for those who get your Pins without giving credit to you, users can still see where the Pin is coming from.
Isn't that cool?
6. Use SEO-Rich description for your Pins. Don't do what many do – no description or flappy descriptions. This will not be good like I've said if you're building a business with Pinterest.
Let it describe to users, concisely and enticingly, what they will get if they click on the link.
7. Add a "Call-to-Action".Pinners will most likely click if they see "click" than if they don't see "click". There's a psychology to this. Don't miss it.
Finally, make sure you do this for all your Pins. Let's imagine you have existing Pins… optimize them immediately.
Canva Pro vs Tailwind Create, Which is Better?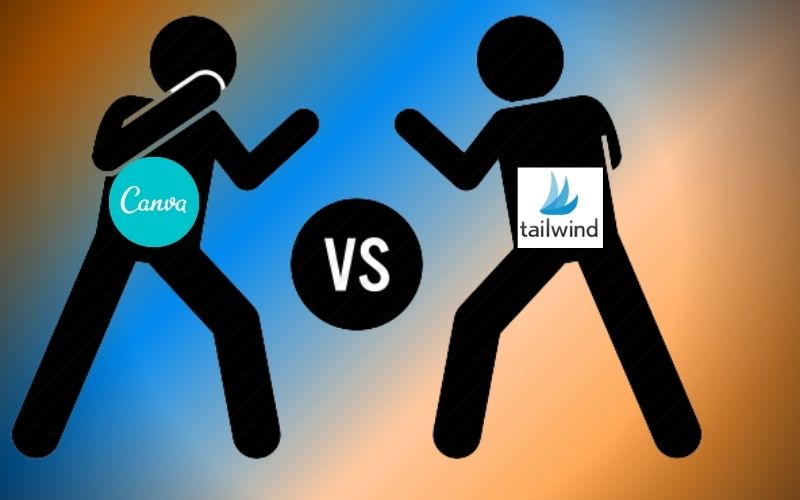 This is like asking, "Between Pepsi and Coke, which do you prefer?"
I'll give you a full description of both. And I want you to pay close attention as I do so.
Canva is a platform that gives you access to create stunning designs without being a good designer.
While Canva Pro is the premium version of Canva that gives you the ability to schedule your posts on Pinterest, Instagram, and Facebook.
While Tailwind Create is like Canva. You create astounding designs with it. And with just Tailwind, which is designed to directly schedule pins on Pinterest, you can schedule your posts on Pinterest, Instagram, and Facebook.
The truth is this, the two platforms create good designs. You don't need to be a guru in graphics to get ready-made designs for your platforms.
And they are uniformly fit to schedule posts on Pinterest, Instagram, and Facebook.
My concern is on the pricing.
Before that, you also need to know that Canva is free for classrooms & non-profits.
And Tailwind has a feature, Smart.bio, that creates a branded landing page that sends a never-ending stream of traffic from your Instagram bio to your most important content.
So on Canva:
With US$0.00, you have:
250,000+ free templates
100+ design types (social media posts, presentations, letters, and more)
Hundreds of thousands of free photos and graphics
Invite members to your team
Collaborate and comment in real-time
5GB of cloud storage
Export designs as PDF, JPG, PNG
Create and publish social media content directly from the Canva Editor to 7 platforms.
You can't schedule posts here.
For Canva Pro…
… with $119.99 for one year, you have all features in the free plan plus 100GB of cloud storage, the ability to upload your logo, and scheduling to other platforms.
For Tailwind…
… at $0, you have these forever:
1 Pinterest Profiles
1 Instagram Profiles
20 Free Scheduled Posts every month.
20 Free Social Post Designs using Tailwind create, every month.
Access to Tailwind Communities
Then you can see Tailwind Pricing Here.
For me, if you're a beginner, try out the free version of Tailwind.
After a few weeks, you'll know what you want compared to Canva Pricing.
Tailwind is more flexible for Pinterest than Canva.
And finally,…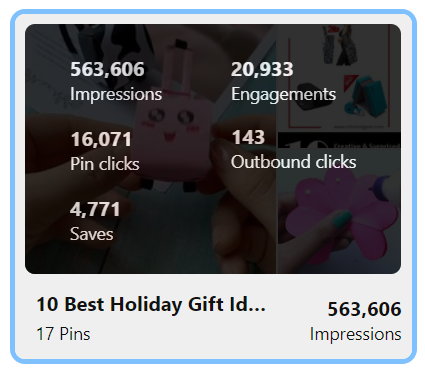 First, you need to know that there's no fixed method of making your pin go viral.
However, I'll show you tips that can give you higher chances of achieving that.
1. Create quality images
Use the information I gave you at the "How to create pins". Make sure your images are clear, beautiful, and relevant (this is very important – share what people are looking for).
Pinners like to re-pin attractive, relevant images.
2. Do you have a "PIN IT" button on your blog?
If you don't, it means you don't expect Pinterest users to visit your page to pin your contents.
Add one. It's a psychological tactic.
3. Don't stop re-pinning.
Perhaps there's someone that did not see it before.
What if that's the person that will start the trigger?
Seasonally, go back after a while, to re-pin on boards similar to yours. You can ask to join a group board like yours. Re-pin there. More people will see it.
Mindshare increases.
And engagement follows.
4. Write alt text
Using this will help you control what descriptions follow your images
5. Pin other people's stuff
The golden rule applies here: do unto others as you want others to do unto you.
Wrapping Up How To Create A Pinterest Pin
Pinterest is hidden gold. With a good marketing strategy and a nice app from design, you can attract visitors, send them to your website, create communities and sell more.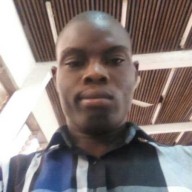 I'm an experienced media executive, complex problem solver in practice, a strategic thinker who can lead teams to deliver on corporate goals and revenue targets
I'm passionate about Blogging | Social Media Influencer | Digital Marketing | SEO and Content Optimization | Email Marketing, Lead Generation | Audience Development and Engagement | Food, Health, Technology, and Lifestyle Editorial… helping other creatives fulfill their goals.
Helping people tap into their potential is my passion & helping organizations find that talent is my job.
Feel free to contact me directly