Last Updated on 2 years by Go Review Rite
This article is about Kuu K2 laptop is one of the best and latest products from Gearbest, Kuu K2 laptop comes with numerous features that make it one of the best and cheapest laptop currently.
If you want to know more about this new gadget price, hardware, features, Pros, Cons and other important information about Kuu K2 laptop, then keep reading because this article is all about Kuu K2 laptop review.
Kuu K2 Review
It's the first time we are reviewing Gearbest on this blog, Kuu K2 laptop was produced and marketed by Gearbest, a new China-based tech company, this organization is just like other Chinese brands that use ODM or OEMs. Use can check Kuu K1 one of their product.
The design of Gearbest's K1 laptop is just the reminiscent of L hmzniy A9 14.1- inch laptop. Currently Kuu K2 laptop is sold for just $405.
Kuu K2 Laptop Hardware
Kuu K2 Laptop was powered by Core i5-5257U processor, one of the latest and best Broadwell-based processors it was launched five years ago and built on a 14nm manufacturing process. Kuu K2 Laptop has
two cores, 3MB cache, four threads and one rather higher base frequency which helps to translate a relatively high power consumption/dissipation.
Fortunately, Kuu K2 Laptop has inbuilt Intel's Iris Graphics 6100, which is considered as "powerful" GPU.
Kuu K2 Laptop also runs on slower and power-hungry DDR3 (8GB Winston/UMAX, removable) with SATA rather than PCIe
NVMe SSD, a ShanDianZhe/Lhmzniy M2 model. Kuu K2 Laptop comes with Intel WirelessAC-3165 WI-Fi combo for connectivity with a 15.6-inch full HD IPS screen, and also with a tiny, tiny bezel, in charge of the display. To complete all off, Kuu K2 Laptop has a 38Whr battery.
Here are the complete specs of the Kuu K1 configuration
CPU: Intel Core i5-5257U
Graphics: Intel Iris Graphics 6100
RAM: 8GB DDR3
Screen: 15.6-inch 1920 x 1080 resolution
Storage: 256GB ShanDianZhe M2
Ports: 1 x HDMI, 2 x USB 3.0, audio jack, MicroSD card reader
Connectivity: Intel Wireless-AC 3165, 802.11ac Wi-Fi
Bluetooth 5.0
Weight: 1.8kg
Size: 36 x 24 x 2.5cm (H x W x D)
Battery: 38Whr
Audio And Camera
Kuu K2 Laptop has an inbuilt integrated stereo speakers that reproduced audio tends to the medium and high frequencies, although the listening volume is good, but it's not really high, the audio captured by the microphone is of good quality.
Kuu K2 Laptop also comes with webcam integrated it is positioned in the upper area of the screen, it main perform poorly, especially in low light conditions. Kuu K2's webcam is suitable for making video calls or video conferences.
Kuu K2 Review Design
Kuu K2 screen is 14.1 inches Full HD matter (therefore opaque) with a resolution of 1920 x 1080 pixels, it was assembled using IPS panel which guarantees a fantastic density of pixels.
Reflections management of Kuu K2 is excellent, but it is a characteristic of opaque screens, and the practical use of the screen is also not bad, which is good for the production of multimedia content, including streaming videos on Netflix, YouTube and other platforms.
Battery And Autonomy
KUU K2 comes with 2*5000mAH/38Wh battery, it is the feature that most represents a compromise for this type of notebook.
It can work perfectly for over 12 hours of standby time and also for 5 hours or more of average use. KUU K2 battery charger quickly which is pretty good.
Most of notebook charger that are connected via a traditional plug and which will require a wait of over 3 hours for a full charge. Charging that's can't take place via the integrated USB-C port.
Kuu K1's In Use And Performance Benchmarks
These are how the Kuu K1 performed in our suite of benchmark tests.
Passmark: 2112.5
Passmark CPU: 4457.6
CPU-Z: 274 (single-thread); 932.6 (multi thread)
Geekbench: 772 (single-core); 1562 (multi-core); 3728 (compute)
Cinebench CPU: 679
CrystalDiskMark: 283MBps (read); 244MBps (write)
Novabench: 807
Atto: 270MBps (read, 256mb); 244MBps (write, 256mb)
AJA: 263MBps (read); 235MBps (write)
Windows Experience Index: 4.8
Kuu K2 Quick Description Main Features And Specifications
Kuu K2 Processor
CPU:Intel Core i5-5257U
Processor Graphics:Intel Iris Graphics 6100
CPU Cores and Threads Number: Double Cores; Quad Threads
Processor Frequency:2.70 GHz up to 3.10GHz
Storage:
RAM: 8GB(DDR 3)
ROM: 256G/512G SSD (Dual Hard Drive)
Screen:
Display Size:15.6 inch
Screen Type: IPS Screen
Resolution: FHD 1920*1080
Dimensions:
Size: 360*240*25mm
Net Weight: about 1.8kg
Package Weight:about 2.45kg
Network:Dual Band Wi-Fi 2.4G/5G, 802.11a/ac/b/g/n,
IEEE 802.11ac
Operating System: Windows 10
Speaker: Built-in two stereo speakers
Keyboard: With keyboard backlight
Screen unlock:Support fingerprint unlock
Fan: Single fan
Material: Metal shell
Battery: 2*5000mAH/38Wh
Kuu K2 Port:
2*Micro USB3.0
1*HDMI
1*Headphone Jack
1*TF card slot
1*Power interface
Kuu K2 Package List:
1 * laptop
1 * Power Adapter
1 * Plug Adapter(depending on your shipping country)
Kuu K2 Laptop Specification
Screen Type IPS Hard Disk
Interface Type SATA + M.2
Graphics Type Integrated Graphics
Standby time Above 8 Hours
Backlight Type Backlit keyboard
Battery Type Li-ion Battery
Material of back
cover Magnesium Aluminum Alloy
MS Office
format PPT,Excel,Word
Support Network Dual WiFi 2.4GHz/5.0GHz
USB Host Yes (2x USB 3.0 Host)
Model Number K1
CPU Brand Intel
Connectivity 3.5mm Headphone Jack,HDMI,Mini
HDMI
Front Camera 0.3MP
Display Ratio 16:9
Function Fingerprint Recognition,Skype
RAM 8GB
Card Reader
Interface yes
Picture format JPG,PNG,BMP,GIF
Usage Office,Business
Graphics Card
Frequency 300MHz~1.05GHz
OS Windows 10
Bluetooth Bluetooth 5.0
Audio Jack yes
Kuu K2 Package Contents
Adapter (depending on your shipping
Country)
1 * Keyboard Sticker (depending
On your shipping country)
Threading Four thread
RAM Type DDR3L
Package Sizes 400*250*90mm
Kuu K2 Graphics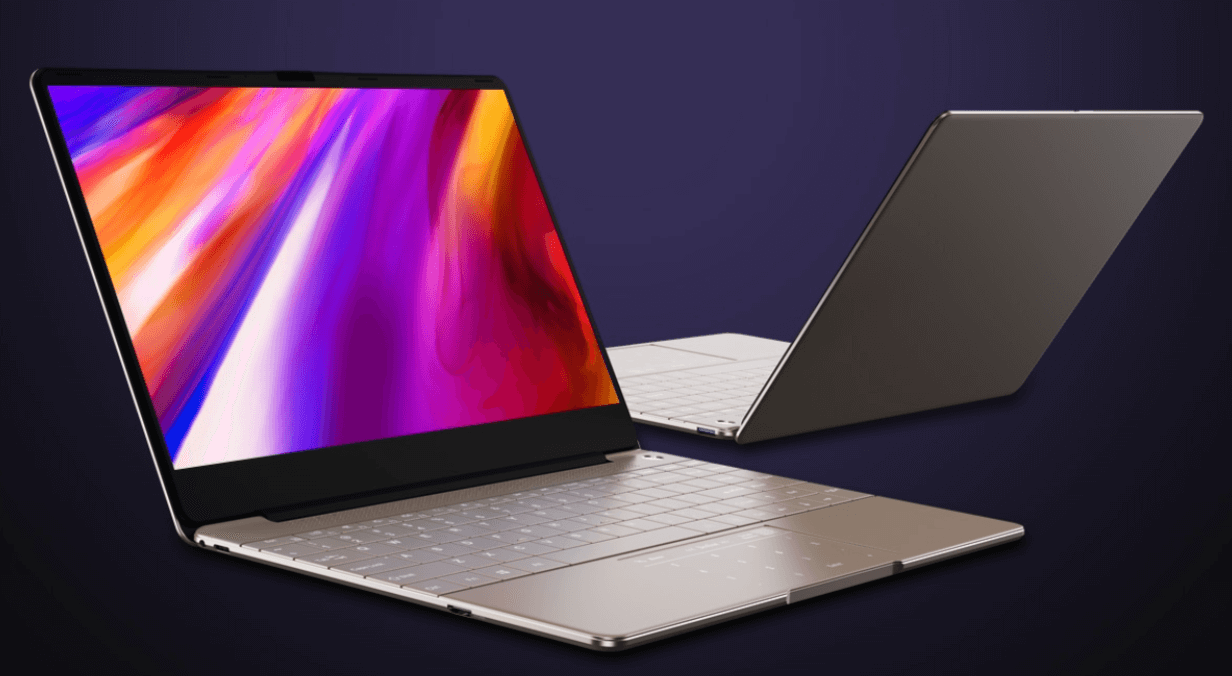 Capacity 16GB
Product Sizes 360*240*25mm
Product Weights 1.8kg
Screen Size 15.6 inch
Package Weights 2.45kg
Classification Notebook
Battery Run Time over 5 hours video playing time
ROM 256GB SSD
WIFI 802.11 a/b/g wireless internet
Caching 3MB L3 Cache
Core Dual Core
Screen Resolution 1920 x 1080
Process Technology 14nm
Camera Type Single camera
Kuu K2 Images