Last Updated on 2 years by Go Review Rite
These days, most companies have a strong online presence and the ones that don't fall behind and lose their market value. Whether you own a business or you're a blogger, you will not only need the right digital marketing skill, but also the right tools to help you excel in your field.
[wp-review id="277″]
While there are a bunch of tools out there, only a few would give you the results you need. One of such is the Lead Conversion System 2. This lead generation software will get your customers where you want them to be.
This new CRM software is a great tool that will get your customers spreading the word about your brand in a positive way.
[TOC]
Lead Conversion System 2 Review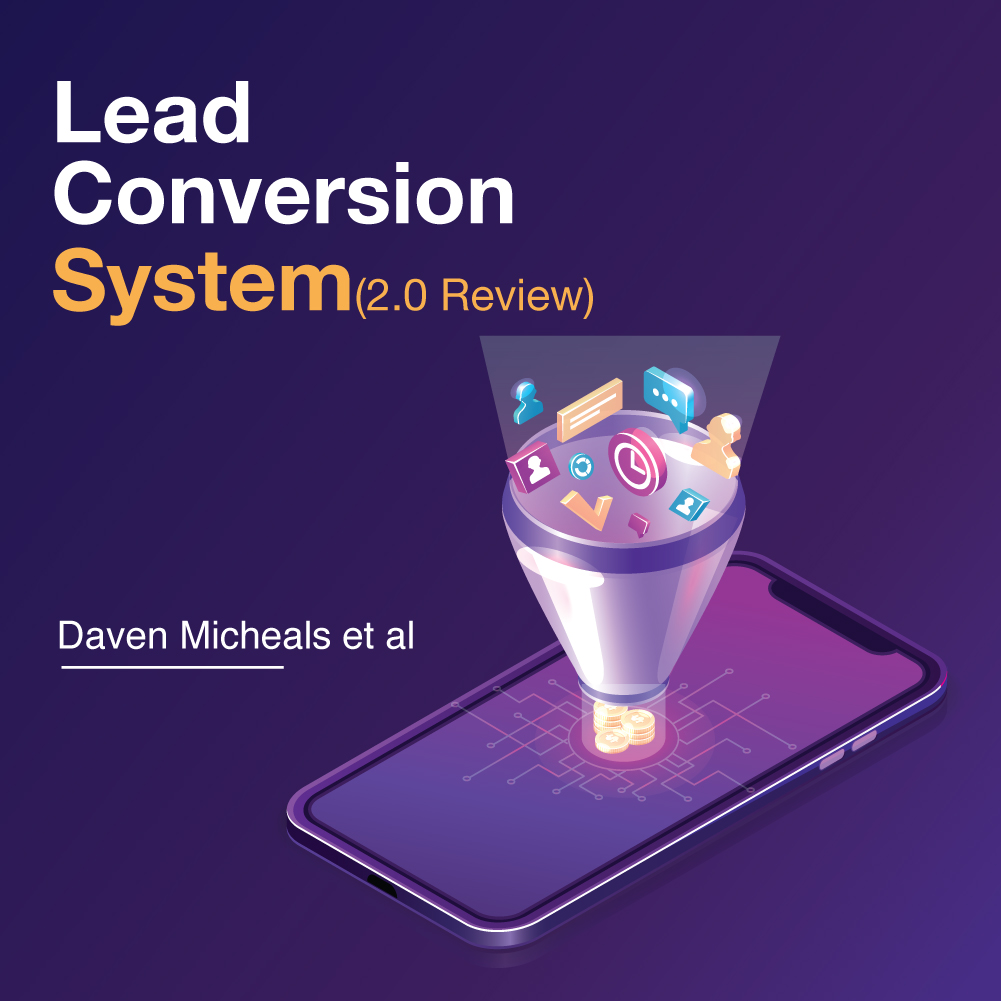 Get up to $900 per sale including monthly back end commissions. This is the main perks being marketed about the Lead Conversion System 2, but what is it actually<
According to the advertised information about the platform, Lead Conversion System Squared is a turn-key business system that your customers will love.
The new CRM software was developed by digital marketers Chad Nicely and Daven Michaels and features innovative specs and you get one-month free to generate leads, make sales and boost your business.
Lead Conversion System 2 Features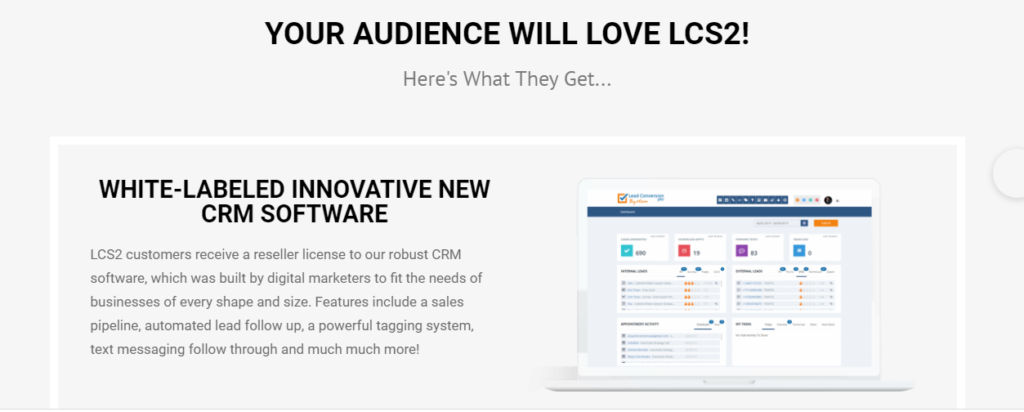 As a CRM, it will improve your sales by boosting your relationship with your customers, the Lead Conversion System 2 comes with a bunch of beneficial features. Among these features are;
1. Automated Lead Follow-up
According to the Keap CEO Clate Mask, 44% of small businesses give up after sending one follow-up message, however, 80% of sales happen between the fifth and the twelfth contact.
This goes to show how following up on your lead can boost your sales. It also shows that 90% of small businesses are missing out of more customers as they do not follow up effectively and consistently.
With the Lead Conversion System Squared 2, you get automated follow up that saves you the time of crafting compelling messages and sending them to your potential customers.
Lead Conversion System 2 will help you to create email campaigns that can be personalized so that your customers will get the right information about your product.
While you can do marketing automation without CRM software, using a CRM software like Lead Conversion System 2 will help you to track your follow-up email as well as view them from anywhere and share them with anyone on your team. It will also take notes of your successes and focus on creating similar campaigns.
There is a bunch of ways to create follow-up systems. You can use SMS/text messages and postcards, however, email campaigns have been proven to be the best marketing format. It has a median ROI of 122% which is the highest ever.
2. Powerful Tagging System
A tagging system is very important in online marketing. With it, you can easily connect and manage your digital marketing applications like your search engine marketing, advertising, and web analytics.
Placing tags on your website will help you to collect relevant information about your users and determine how they behave. This information can then be processed and used to make better decisions in your marketing.
With Lead Conversion System 2, you get several tags for you to market your offers and boost your conversion. There are remarketing tags for you to make better offers and align your campaigns to target your users.
With these tags, you can easily change the content of your ads based on your users' preferences. This tag will capture all your onsite data and send them to your ad server. Through this information, you can then decide the right ads your users would want to see.
There are also conversion tags that will track the performance of your ad campaigns. The tag will provide you with information on your ad performance and you can use that information to optimize your ads for better delivery.
3. Sales Pipeline
A sales pipeline is a way of tracking potential buyers through the stages in the purchasing process. It is usually visualized as a horizontal bar divided into the stages of the sales process. A sales pipeline is an important tool for salespeople who want to monitor their sales process and to know how well their efforts are working.
The pipeline tracks the salesperson's activities as buyers move from one stage to the next. With a sales pipeline, a company can know which sales activity is giving them the most return and key into it.
With the Lead Conversion System 2, you can create an efficient sales pipeline that will help you to track all the necessary details and know more about your sales process. This CRM software will help identify more opportunities. By building a sales pipeline, you can take note of your conversion rates and identity which sales activities are working for you and the ones that are not.
There is no real difference between a sales funnel and a sales pipeline. In fact, they actually mean the same thing. So if you're considering that a sales funnel would be more effective for your business than a sales pipeline then you put away that thought.
4. Text Messaging Follow Through
Every good salesperson knows that a customer will only finalize a sale at their own time. This might be at the first, second, or fifth contact.
There are a lot of sales that happen within the first three contacts, however, there are a lot more that salespeople fail to achieve because they give up too easily.
By continuously contacting your customers and sharing new deals and incentives, you can get more people to buy your product. Text message follow-up is a type of lead follow-up system that helps you to keep in touch with your potential customers and turn them into buyers.
To ensure your prospects turn into buyers, you will need a CRM software to manage things for you. A good sales CRM system will go a long way to prevent unwanted situations like spamming and sending of duplicate text messages. And that is what you will get from the Lead Conversion System 2.
When sending follow-up text messages, it is important that you focus on sending relevant information and make frequent efforts to communicate with your potential customers.
You will need a template to handle your list of prospects which you will get from the Lead Conversion System 2. This CRM will give you everything you need. There is also a track and log system that helps you to schedule your messages. This is very important since you have to reach your prospective buyers at the right time to get the right response.
5. Brand-Able Digital Business Card Sign-Up Page
When it comes to online businesses that sell products or online services, having a landing page that attracts and appeals to the right audience is a must. Your audience will decide if your brand is worth their while by taking one look at your sign up page.
In the online world, there are hundreds of competitors and customers don't have all the time in the world to go through every one of them before settling for the best. This is why they rely on their first impression of a site to make most of their buying decisions. With a glance, they can decide if your site is worth their time or not.
With LCS2, you can create that compelling digital business card signup page with your own branding that to converts potential customers into buyers.
The page is 100% customizable allowing you to make changes to suit your present offers, bonuses, and benefits. This helps you to stay updated with the latest trends and reach a wider market – something you won't get with static pages. You can also add your personalized videos on your page to give that extra professional touch every customer wants to see before investing in a brand.
Lead Conversion Squared 2 Launches & Pricing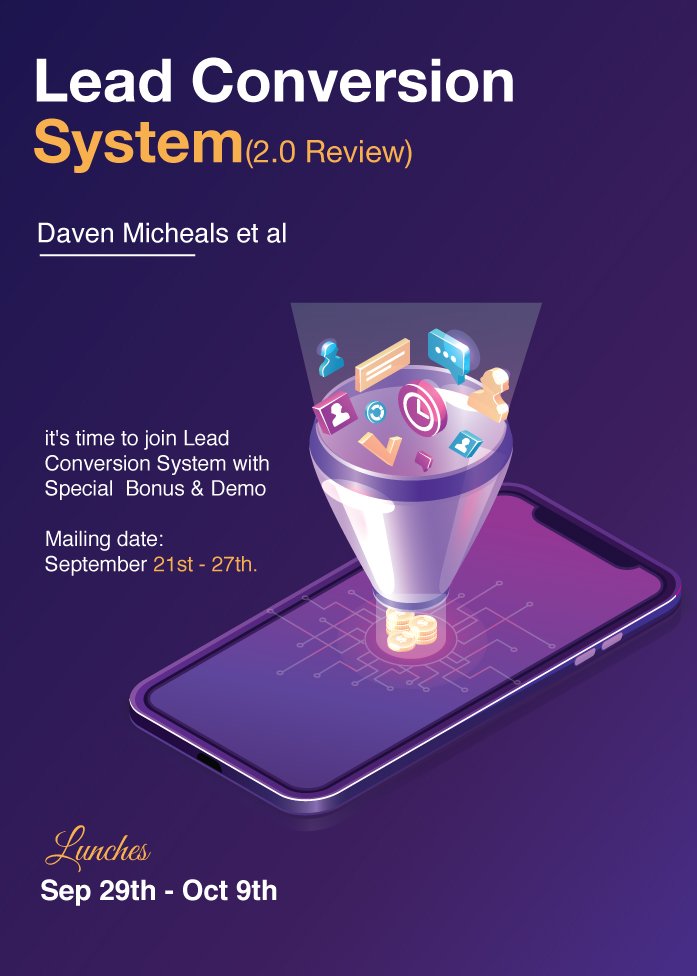 Lead Conversion Squared 2 would cost between $1,497 – $3,000 depending on the plan, features, and discounts made available to you.
Lead Conversion Squared 2 Bonus
You will get a Lead Conversion Squared 2 Bonus which involves a FREE 3-day Masterclass held by the software creators Daven and Chad.
Get Lead Conversion Squared 2 Bonus Now
Get instant access to LSS2 bonus & FREE 3-day Masterclass held by the software creators Daven and Chad.
Everything You Need To Know About CRM Software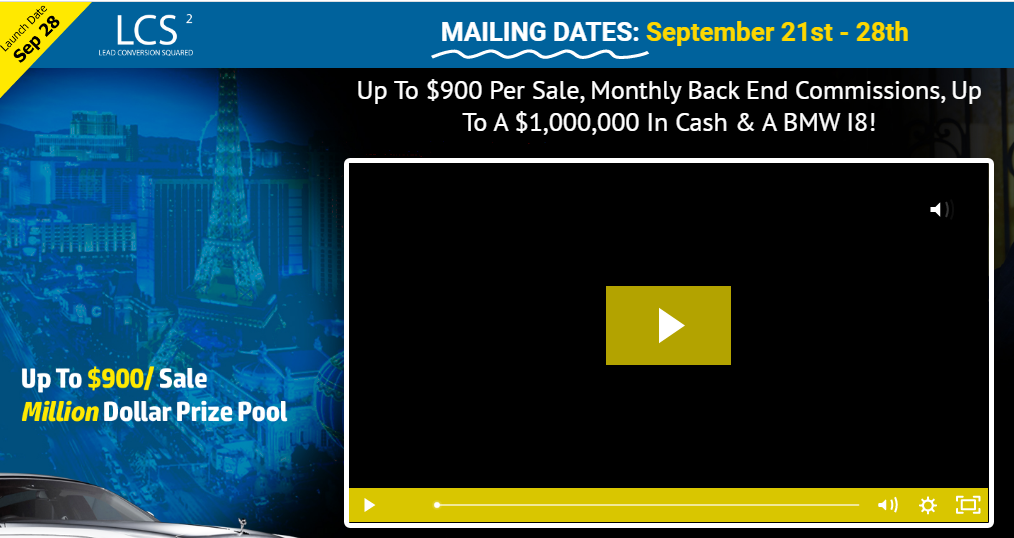 CRM has come a long way and just like everything else, they have evolved to include more efficient solutions for businesses. Read on to know more about CRM software and why you need them for your business.
What is CRM?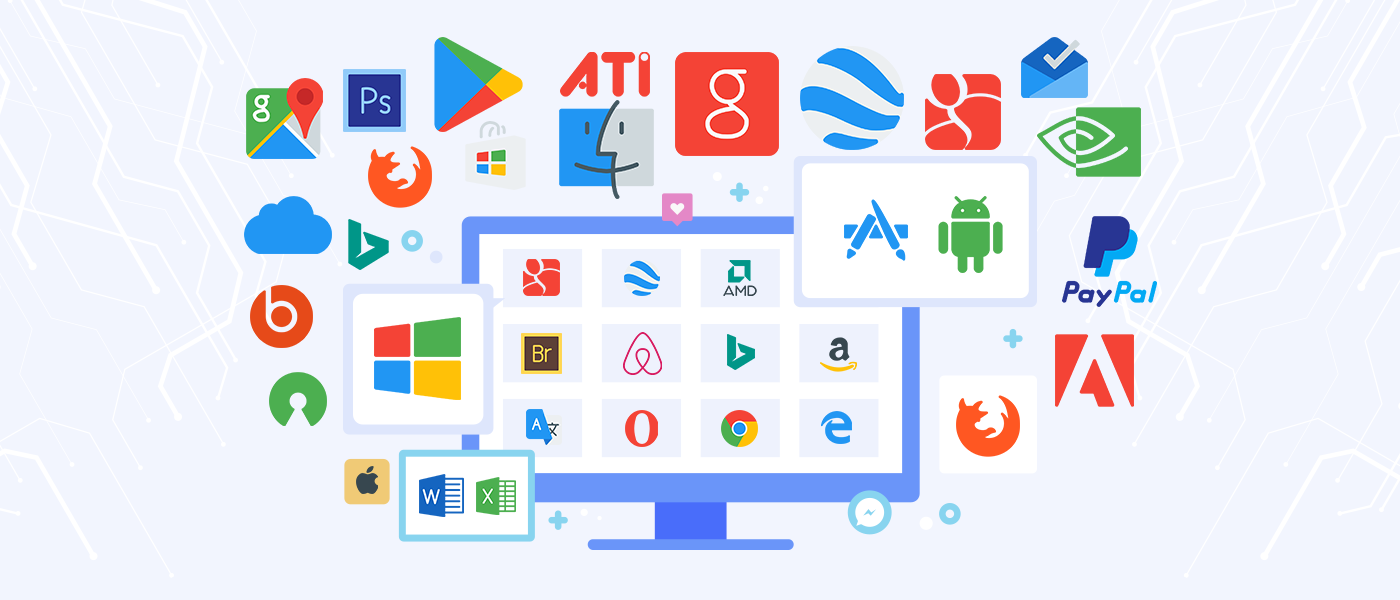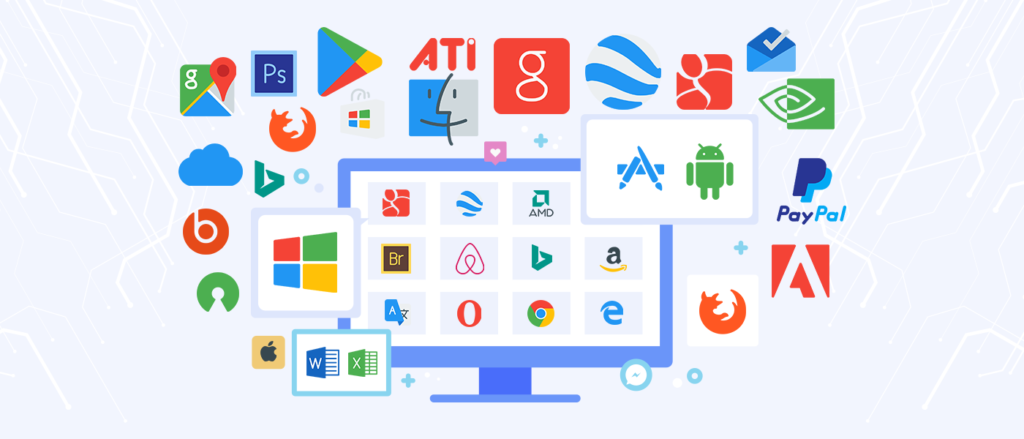 Customer Relationship Management (CRM) systems have evolved from handwritten notes to programs that allow you to store and manage prospective buyers and customer information in one secure location. With CRM software, you can store the contact information of your business contacts, relevant data about sales opportunities, and more.
CRM software is important for all businesses as it would help you to manage your relationship with your customers, boost your revenue, and impact your business growth.
How Does CRM Software Work?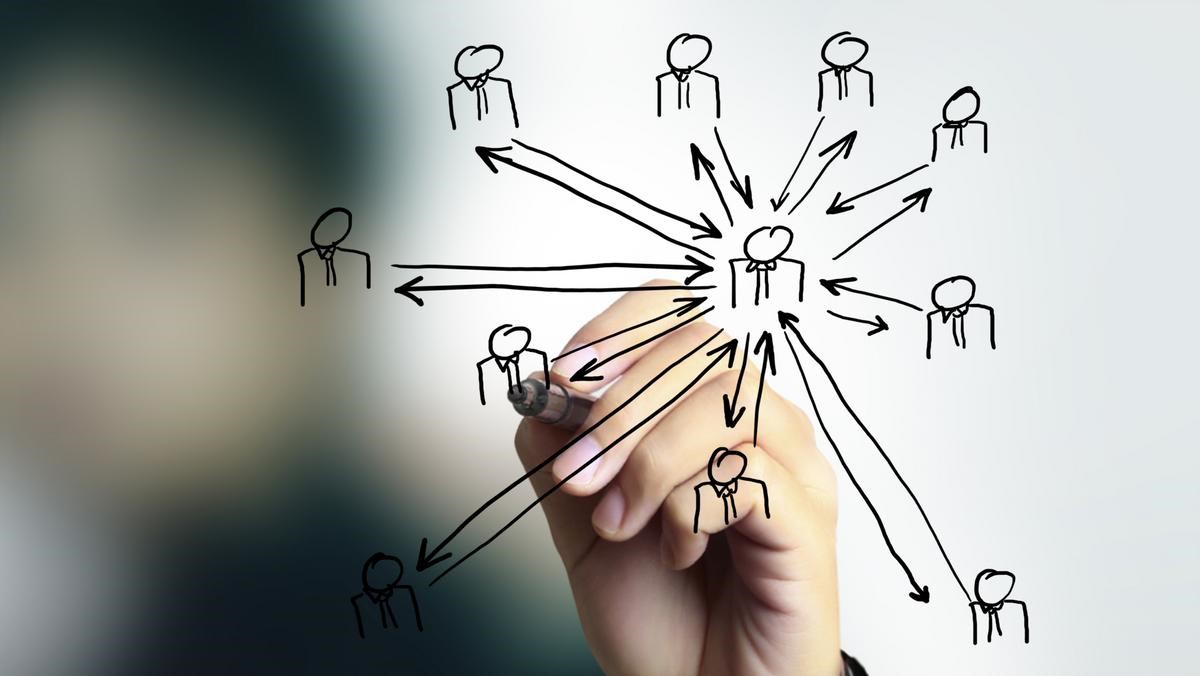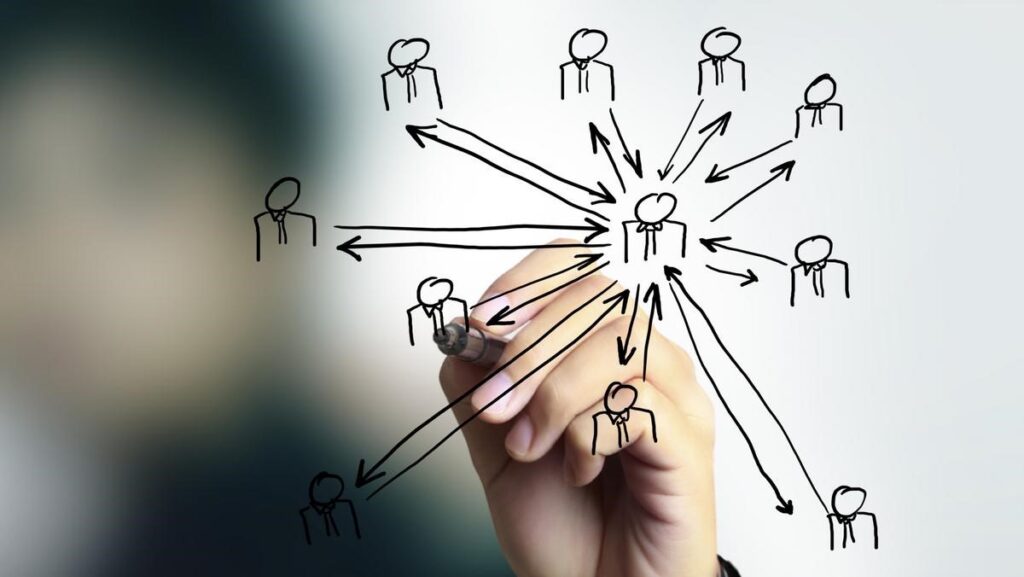 A CRM software or platform is very easy to use and implement. It takes all the data from your platforms in your departments and helps you to keep it organized. This includes your sales, marketing, and customer service.
With an effective CRM platform, you can manage updates, tweaks, and make changes to keep your data clean and well managed. You can also set up an audit trail to help you track the changes to your system.
Overall, CRM software will help you to easily obtain relevant information from your customer by tracking your call logs, spreadsheets, and pipeline data.
Who Can Use CRM Software?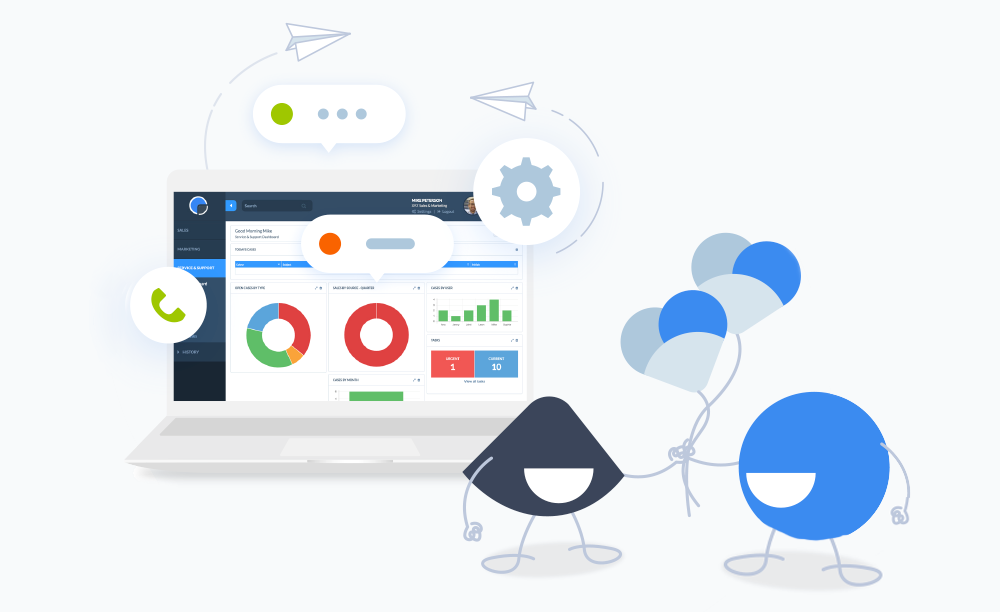 CRM Software is great for every business whether you're a small business, a startup, or an organization. It will help improve your interactions with customers, boost sales performance, and ease up the streamline business processes.
Startups – When it comes to startups, simplicity is everything. Startups would need to scale up quickly which leaves no time for complex systems. With CRM platforms, they can easily achieve this. CRM systems are easy-to-use and designed to help businesses make the right decisions quickly.
Small Business – As a small business owner that dreams of expanding to reach more potential customers, CRM software is a great tool to have. To get more customers and keep your current customers loyal, you would need a management system that can help you get crucial information about your customers that will reveal the best tactics to use and the ones to avoid.
Enterprises – For any organization that wants to boost its market share, a CRM platform is a great way to go. With this indispensable tool, you can track and improve your entire sales process.
B2B – If you run a Saas business, you can track your sign-ups, set up demos for your contacts, and manage your subscriptions all from one spot using a Saas CRM.
B2C – In the B2C market, retaining your customers and ensuring they are satisfied is very important. With the CRM platform, you should be able to track your visitors' information, stored customer data, identify profitable leads, make phone calls, and send emails right from your CRM software.
Benefits of CRM [ Lead Conversion System 2 ]
1. Improved Relationship With Customers
Turning potential buyers to customers becomes very easy in the CRM platform. With the CRM software, you can easily recognize leads, their needs, and employ strategies that make them loyal customers.
2. Automated Processes
With a CRM platform, you can automate basic tasks to make your business processes faster. You can automate creating contacts from your signup forms and sending of welcome emails to your new prospective customers.
3. Higher Revenue
A CRM platform allows you to cross-check your sales process, identify loopholes, and improve on your best-performing activities. This would help to boost your revenues and improve your productivity
4. Better Communication
CRM stands for customer relationship management and that is just what a CRM platform does. It will improve your communication with your customers by providing them relevant, on-time information.
Wrapping Up Lead Conversion System 2 Review
Lead conversion system squared is right for you if you're looking to improve customer relations and boost your business. With so much competition in the business world, you would want to stay one step ahead of your competitors by keying into your customers' needs and providing them with the right solutions. With Lead Conversion System 2, you can achieve all these and more.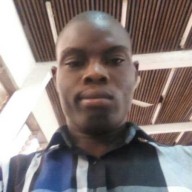 I'm an experienced media executive, complex problem solver in practice, a strategic thinker who can lead teams to deliver on corporate goals and revenue targets
I'm passionate about Blogging | Social Media Influencer | Digital Marketing | SEO and Content Optimization | Email Marketing, Lead Generation | Audience Development and Engagement | Food, Health, Technology, and Lifestyle Editorial… helping other creatives fulfill their goals.
Helping people tap into their potential is my passion & helping organizations find that talent is my job.
Feel free to contact me directly