Last Updated on 4 months by Go Review Rite
Gone are the days when you would need to spend hundreds of dollars to get someone to do a voice-over for your videos.
Today, with the help of artificial intelligence, you can easily convert your script into natural voice audio within minutes.
It's actually that easy and if you check the web, there are a lot of tools that do that.
However, many of them are less developed and do not offer you that natural feeling you seek.
For most of them, it is easy to detect that it was the work of a robot due to the non-human nature of the voiceover produced.
If you're in hurry to see murf.ai in action; – Grab this Murf.ai coupon offer Murf Ai is offering a 20% discount on all subscriptions for the first 100 signups>> Hurry Up To Get a 20% Discount Toady <<
This has been the main reason people still pay freelancers to get their voiceover done.
They want to have that human connection with their listeners as it has a huge effect on keeping the attention of whosoever hears them.
So what if I showed you an artificial intelligence-powered tool that has the ability to seamlessly convert your script to a voiceover with 100% human voice?
Let's not waste any more time as we dive right into my murf.ai review which I consider to be currently the best text-to-speech ai technology in the market.
What is Murf AI Voice Software?
Murf artificial intelligence voice software is an edge-cutting text-to-voice software that brings a new reality into the way voiceovers are being created.
It has a lot of options in place that enable you to create voiceovers with a 95% similarity to that created by humans.
Quite unlike what text-to-voice software has looked like in the past, murf.ai is focused on the lifelike human feeling it produces.
It currently boasts over 40000 voiceovers created at extremely high speed for users across the globe.
That's not all, murf.ai has a lot of added features that any professional will need for voiceover production and this includes the capability to synchronize your video presentations to your voiceovers seamlessly with 99% accuracy.
It does not just allow you to create voiceovers, you can also edit your voiceovers in a matter of minutes.
It is actually as easy as it sounds.
Murf.ai saves your valuable time, and financial resources and the need to integrate many tools as it is an all-in-one tool for voiceover production.
How is Murf AI Different From Other TTS Software? eg Speechelo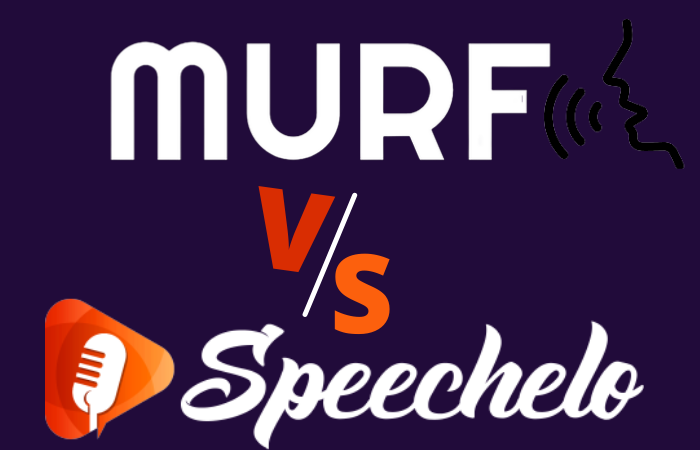 Perhaps you are already using another text-to-speech software one of the TTS is Specehelo and you want to know the difference, here are some notable features that set murf.ai apart from other text-to-speech software in the market.
Voice over Video
Transcription
Voice Changer
Voice over PPT
E-learning narration
Google slide Voice add-on
Why Should You Use Text to Speech? – Murf.ai Review
Text-to-speech software is a very useful tool as it easily converts your scripts into speech within minutes.
Compared to doing the manual way of hiring a freelancer. that might take forever to get your work completed.
Also with the help of artificial intelligence, you can easily change the accent of your generated voice over..no more "eh!" "hmm!" "you know!" etc
Murf.ai Review [The Complete Murf TTS Software Features Breakdown]
So let me show you what features murf.ai text-to-speech software brings to the marketplace and I am sure they will blow your mind.
1. Easy-to-Use Interface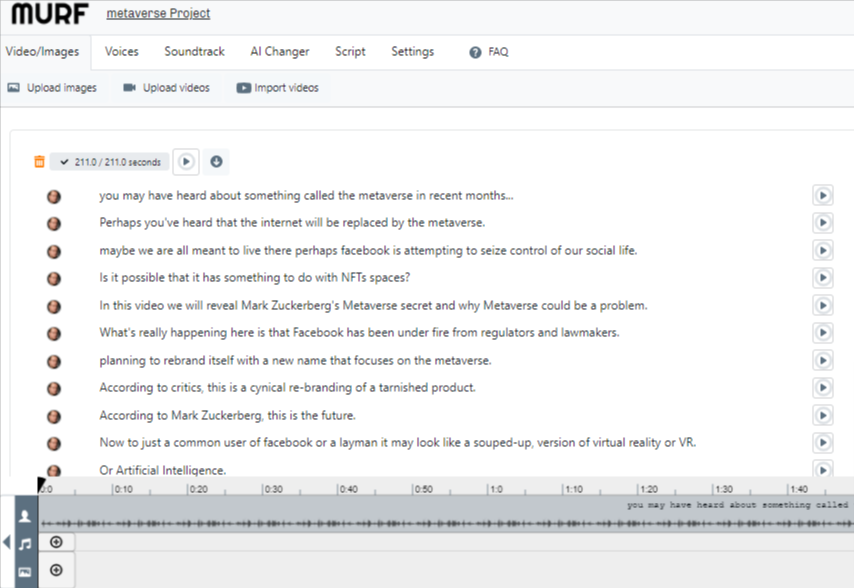 Just like Canva is for graphics, Murf studio is designed to make voiceover production as easy as possible without a complicated process.
Even a novice can create and edit voiceovers using the easy-to-navigate Murfs.ai studio.
No experience at all? Then you got absolutely nothing to fear as murf.ai was designed with you in mind.
2. One-click voice changer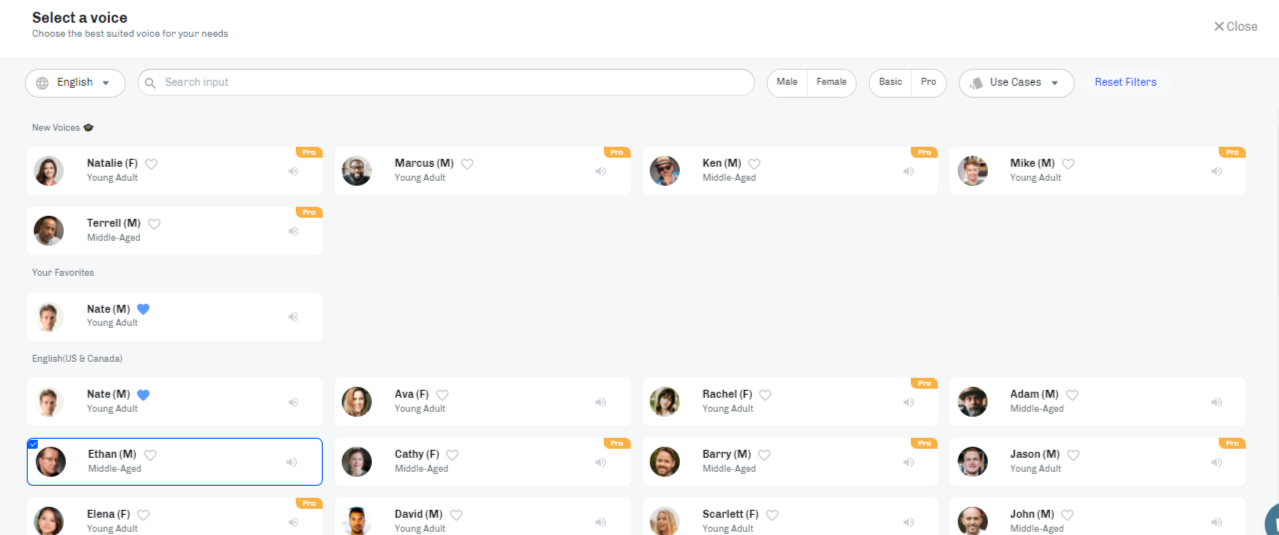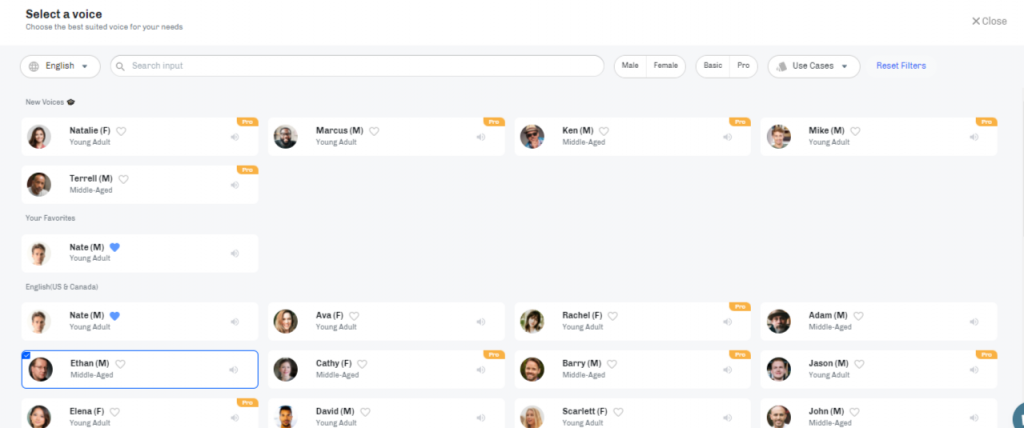 This amazing feature on murf.ai allows you to easily eliminate background noise from your audio files right from the Murf studio, meaning you do not need to make use of a 3rd party software to do so.
Also, you can tag a voice and with three simple clicks change the voice.
This saves you the stress of having to rewrite the script to have a new voice.
3. Seamless Voice Editing Options
With murf.ai, you get a whole lot of options across multiple age groups.
You get a seamless experience and great voice quality. You'll find a ton of great audio varieties across multiple age groups.
You can also modulate the audio by modifying speech, pitch, pronunciation, etc., and you'll be able to build more realistic audio by using the appropriate dialect
Some of the voice effect options you can easily adjust on the murf studio to fine-tune your audio to your taste include:
Reverberation
Flanging
Phasing
Chorusing, etc.
4. Murf's AI Voice Generator
With Murf artificial intelligence, you get to choose from over 120 top-quality voices for your audio which are available in over 20 languages.
These voices are not static as you are given a full set of tools to edit anyone you choose to fit your audience.
With over 20 languages such as:
English
French
German
Russian
Italian
Portuguese
Norwegian
Romanian
Chinese
And many other languages.
5. Voice-to-Text Tool Included
With murf.ai, you not only have the ability to convert text to speech, but you can also do the reverse by transcribing your speech back to text.
6. Text-Based Audio Editor

With murf.ai, you do not need to export your audio generated and take it to an editor as it has an inbuilt text Based Audio Editor.
Another amazing fact about this software is that it automatically works with both voice-based or text Based inputs – you can upload a text or audio and edit it to any voice of your choice.
The Murf studio is a simple but extremely powerful editor with a very easy-to-understand user interface.
With the Murf audio editing feature, you will be able to do the following and even more.
Add video to your audio
Add music, images or slideshow to your audio
Create dialogues
Standardize pronunciations of your audio files
Voice customization such as editing the speed, pitch, emphasis and lots more)
Grammar assistant
Bulk upload via txt, Docx, and srt format files
The amazing part of all these is that all these features are extremely easy to use and it requires zero technical experience to do something great.
There is also a click feature that helps you improve the quality of your audio output to a more realistic and natural output.
7. Robust Data Protection
One of the strongest points of the Murf studio is it's stronger than steel data protection and security protocols.
With a 2 Factor authentication protocol that helps prevent unauthorized access.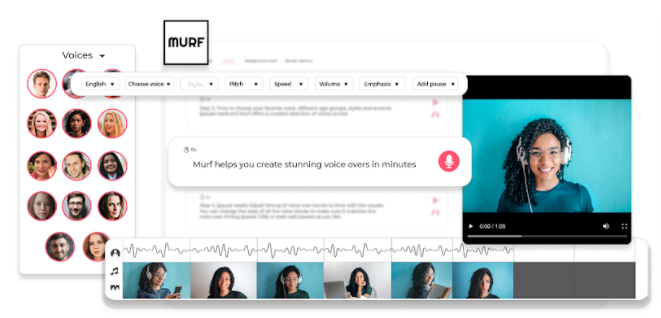 All data are stored on Amazon Web Services, which is compliant with all data privacy and security regulations, including:
GDPR
PCI
DSS
HIPAA
HITECH
FedRAMP
SOC1
SOC 2
SOC
So simply put, whatever data is on the Murf platform is 100% secured and properly encrypted before being transported or sent to another server.
Murf AI Pricing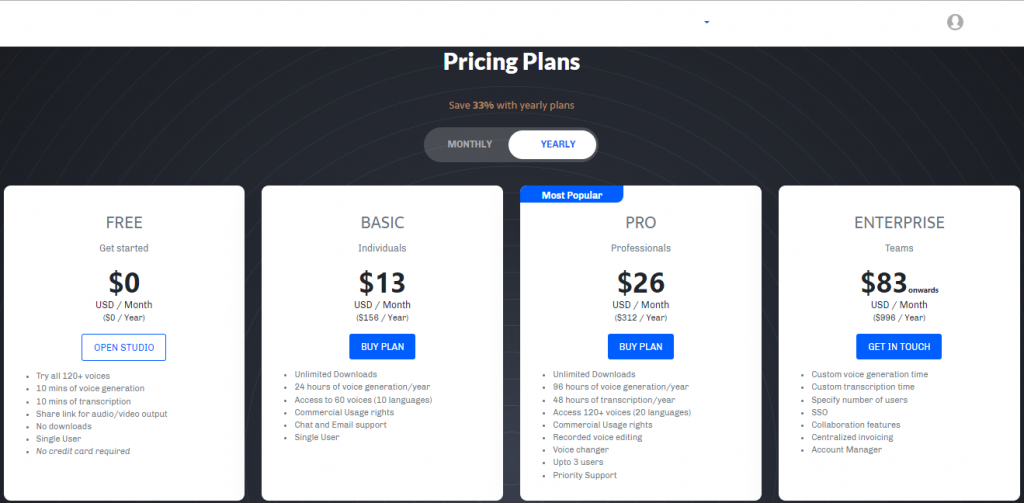 Currently, Murf supports monthly and yearly subscription plans, however, you get to save up to 33% if you purchase an annual subscription.
Also, they have a free trial version which you can use just in case you are not sure.
Now let's dive right into the pricing table and see what they got. Murf.ai pricing table has three packages which are:
BASIC Subscription
This package costs $13 monthly if you are paying for a year or $19 monthly if you are paying month by month and is only available for a single user.
The following are some of the features of this plan.
Unlimited number of Downloads
You can only make use of up to 2hrs of voice generation per month which then equates to you getting 24hrs yearly.
You are given access to 10 different major languages and you can equally access 60 voices for your audio creation.
It includes commercial usage reports
Email and Chat support
It is a single-user account
PRO Subscription
As the name implies, this is a package for professionals and it costs $26 monthly when paid annually or $39 monthly when paid monthly.
It has the ability to accommodate up to three users and here are some of the features:
An unlimited number of Downloads
You can only make use of up to 8hrs of voice generation per month which then equates to you getting 86hrs yearly.
You can choose 20 different languages and can access around 120 voices.
This subscription includes a commercial usage report
With the pro package, it is possible to record the voice and edit it
It includes a Voice changer feature
You can add up to three users to utilize these features as a team
Priority Support
ENTERPRISE Subscription
This is the right plan for agencies and businesses. It cost $83 if paid yearly or $125 if paid on a monthly basis.
It can accommodate a more number of users to manage your projects.
Here are some of the added features of this plan
Customizable voice generation time
SSO.
Custom transcription time
Centralized Invoices
You will get support from dedicated account managers
Murf Ai is offering a 20% discount on all subscriptions to AI
>>> Hurry Up To Get a 20% Discount Toady <<<<
Who is Murf.ai For?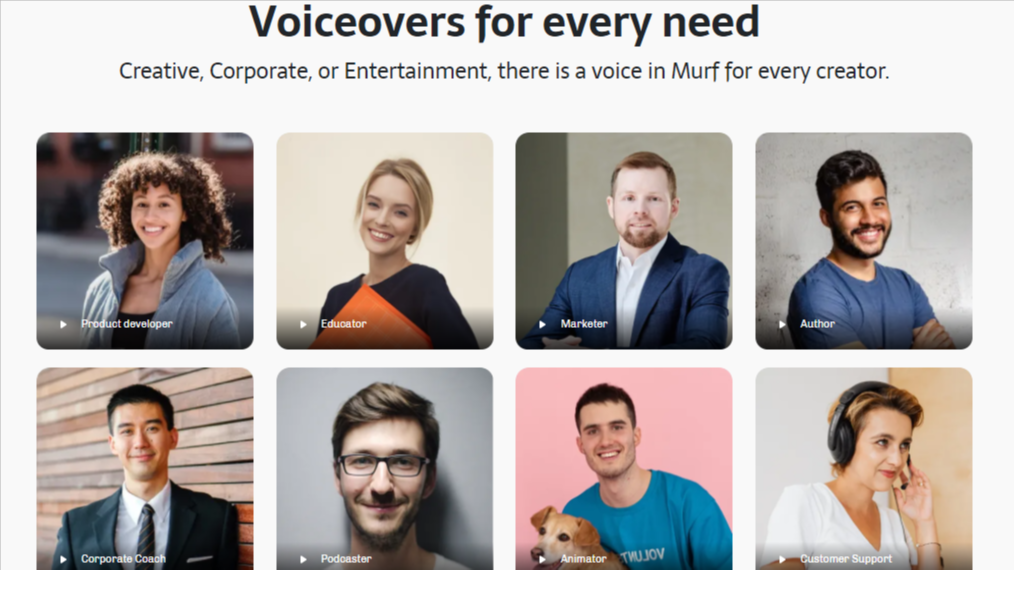 In fact, Murf is a perfect tool for all content creators. Right from educators, instructors, podcasters and many others.
You'll be able to create realistic recordings that are out of this world, including:
Product and explainer videos
Ads and promotional videos
eLearning course modules
Audiobooks, Games
YouTube videos and Podcasts
IVR phone system/Customer support
Benefits and What I don't Like About Murf AI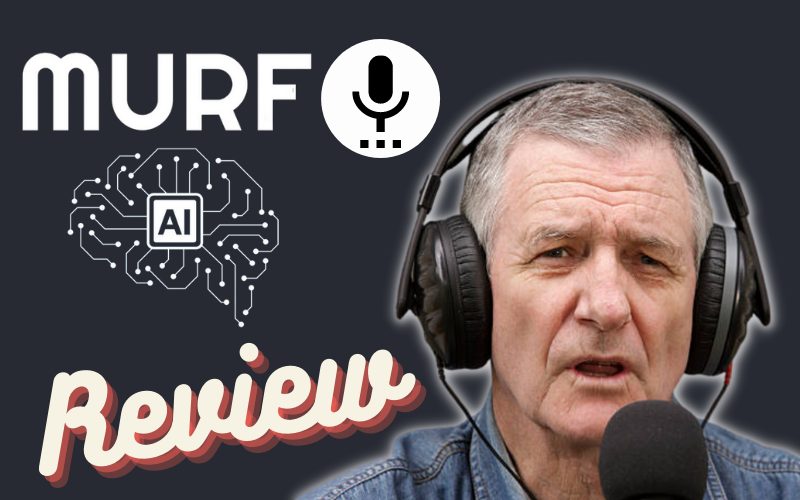 This is the problem with this text-to-speech software. Their prices are getting ridiculous… Although Murf is a little bit better
People should understand that $13 for the basic plan is billed yearly, and therefore you need to put down $156 upfront.
Then you get only 24hrs of text-to-speech for the entire year.. or opt-in for a monthly plan.
Now if you don't want to take the yearly option then the cost per month for the basic plan would be $19 per month but you now only get 2 hours of text-to-speech to download for the entire month.
It's too bad, but also fair considering hiring some freelancers on Fiverr might really be expensive and time-consuming.
For instance, if you want to make a 3 min video length with the $19 per monthly 2hour (120 mins) plan you can produce Up To 40 video
So I think it's fair enough considering this kind of human-like nature of TTS.
Murf.ai Pros and Cons
This is an important aspect of any software review as it gives you an insight into what you may need or not need that the software entails.
So let's quickly dive right into it.
Pros of Murf.ai
Wide Variety of Voices: with murf, you are presented with over 120 voices to choose from and they include dialect unique voices as well as male to female voices.
Create & Edit Perfect Voices: from the murf studio, you can do a lot of changes to your voice which includes the pitch, speed, tone and a lot more. When properly applied, you can produce what can be referred to as a perfect voiceover.
Extra Effects: there are a lot of extra effects and even voice filters that can be added to your audio using murf. Indeed it is all encompassing, as you can add filters like monster voice, helium voice and a lot more.
Google Slides Add-on: Murf.ai also offers a Google slide addon in case you need to work with it.
Robust Data Protection and Security: Access points on murf uses 2-factor authentication (2FA).
Cons of Murf.ai
Currently, I could find any bug but I think the software would be better and far more valuable if more languages could be added to it.
Murf AI Frequently Asked Questions Faqs
Is Murf AI any good and free?
Murf.ai is among one of the best text-to-speech software in the marketplace today and despite the fact that it isn't free, it has a free trial for you to check out.
Do you get Natural Human Voice with Murf TTS? 
Certainly Yes, with more text-to-speech, you get a 95% human voice based on artificial intelligence.
Do YouTubers use Murf.ai TTS to get monetized with Adsense? 
Voice-over created using the murf.ai software on your YouTube channel and get it monetized.
All voiceovers created with murf.ai are copyright compliant and can be used without any legal issues.
Can You Make Money selling Voice Over services on Fiverr? 
Certainly Yes. People pay hundreds of dollars to freelancers online to convert their scripts to voiceovers. 
Once you have a pro or business package of the Murf software, you can charge others to help them create or edit their voiceovers and make cool cash.
Murf AI Review – Does it Worth Money?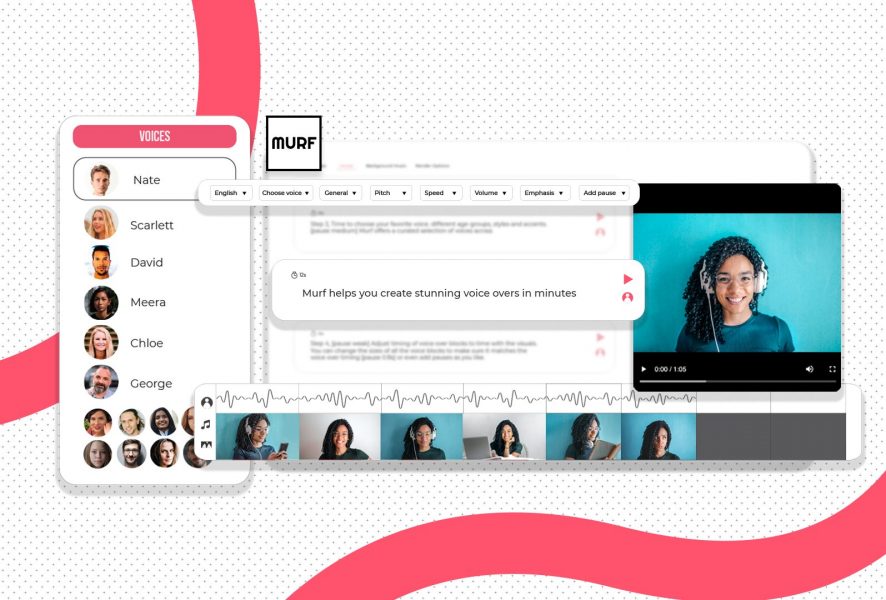 Considering the features and hundreds of dollars it will be saving you off audio production, Murf ai is definitely worth it.
In my opinion, it is a must-have if you are into audio editing and voiceovers or even content creation.
So you don't like murf.ai for any reason and you would like to try other TTS very similar to Murf… then check the Alternatives to Murf.ai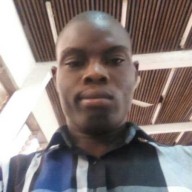 I'm an experienced media executive, complex problem solver in practice, a strategic thinker who can lead teams to deliver on corporate goals and revenue targets
I'm passionate about Blogging | Social Media Influencer | Digital Marketing | SEO and Content Optimization | Email Marketing, Lead Generation | Audience Development and Engagement | Food, Health, Technology, and Lifestyle Editorial… helping other creatives fulfill their goals.
Helping people tap into their potential is my passion & helping organizations find that talent is my job.
Feel free to contact me directly