Last Updated on 2 years by Go Review Rite
We are in an age where any business can be digitized and modernized.
In an age where growth is exponentially guaranteed and there are tons of ways at your disposal to grow your business.
In this article, we are going to show you how to create an app and make money for your business or even as an app developer.
When you aim to answer the question "how to create an app" there should be one answer and that's Zapable.
Building an app is one of the best steps your business can take because it simply puts your business out there higher than all the regular stuff you see everywhere, every day.
What are Instant Apps?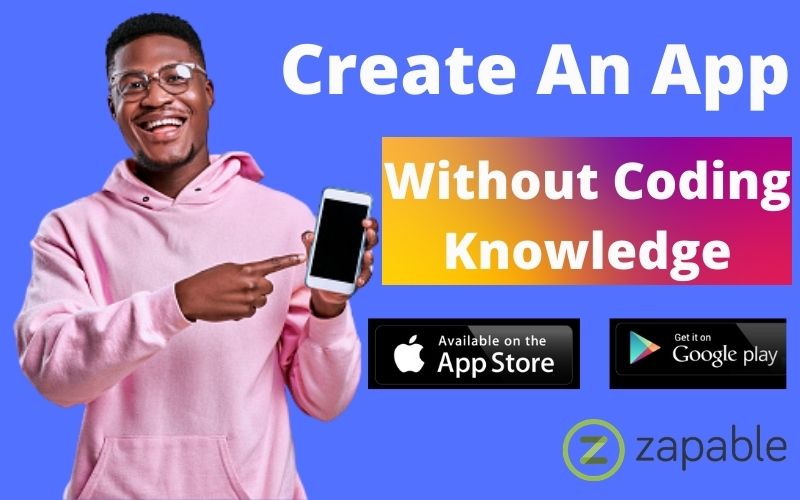 Instant apps are simply a feature found only in Android devices where a user can have access to an app and the content in that app and without necessarily downloading the app.
This is a big feature and advantage because the app content and space required are stored in a cloud, not on your device.
This means you are literally using the app while its content is stored elsewhere.
Why are Android Instant Apps Important?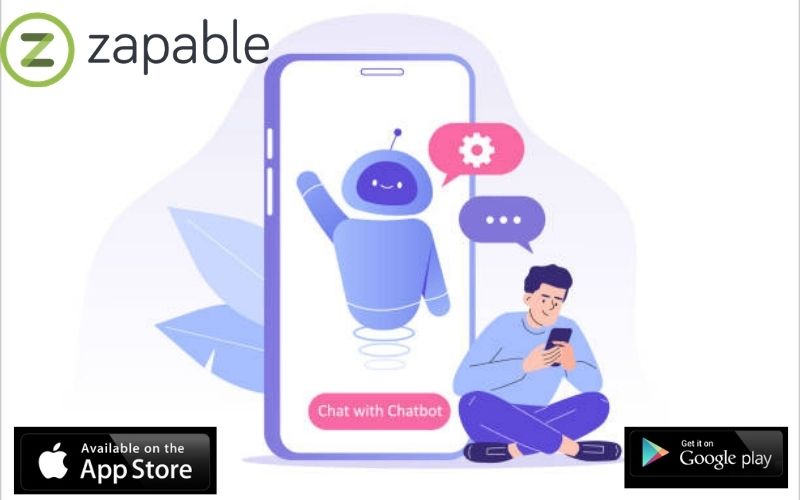 Android instant apps are not compulsory to use and as a matter of fact, you can decide to turn them on or off if you wish but they are important because they give your phone much more comfortable and don't stress the device.
What is meant by this is, your phone gets all the benefits of an app without necessarily getting the downsides.
Android instant apps mostly are games and service-related apps. If the app requires some form of payment then you just have to do that to use it.
The logic behind the app lightness is the fact that you don't download the entire code required to run the app.
You just download the section of code you need for every page you use.
This means that you are not running the entire app on the phone but just sections at a time.
Instant apps are important because it allows app and app developers to launch their app right out of Google play without necessarily requiring installation.
Learning how to create an app isn't something anyone can do and the least an app developer can get is to put their apps in front of people and let them use them without having any trouble.
Why You Need Zapable App Builder
When it comes to the building of apps you can't go better than Zapable app builder.
This is by far the most effective and efficient way to build apps while eliminating all complexities and stress of the entire process.
Knowing how to create an app is one thing but learning the best "how to create an app", the best method to do this and most effective is another thing.
Here are some of the reasons you need a Zapable app builder.
Unlimited app creation:
You cannot put too much emphasis on how building an app for a business can increase its professionalism and worth to new customers and means growth to existing customers.
The beauty of this is, you don't need to have any knowledge of coding or be a computer guru.
You can create an unlimited number of apps for small businesses giving them a chance in the bigger market.
With Zapable Instant app builder, the question of how to create an app becomes way easier to answer.
You automatically become a developer
With Zapable Instant app builder, it becomes totally your decision to become an app developer or not.
Now you just simply create gigs on freelance websites like Fiverr, Upwork, and a host of others and start getting jobs.
With Zapable Instant app builder, you would deliver great quality jobs.
Anyway if you will prefer to hire someone with coding knowledge to help you develop your app check the service below
App creation and sales:
You may need to be a bit extra smart for this one, but again who says you are not? With Zapable Instant app build you can learn how to create an app in very easy ways and begin to think of different apps with different functions and sell these apps to people who like the idea of these apps.
They may not sell for so much especially since they are absolutely new and their success or failure in the market is largely unknown.
You can make it a decision to take this initiative as a business model and make profits out of nothing but skill.
Monetizable apps:
The apps made on Zapable are totally monetizable and you can make money using Google AdMob.
All you need is to make an app and then put it on the play store and when you get downloads and your app gets used, you start making money.
What Does Zapable Do?
Zapable can be described in the shortest form as an instant app builder.
It helps you build an app in a few minutes and simply just gives an answer to the question "how to create an app".
Creating an app got so much easier with Zapable and it gives everyone who is willing to use Zapable a chance to become an app developer.
Zapable is a user-friendly instant app builder which helps create apps for small businesses and even start-up companies.
It eliminates any use for coding and makes building apps a lot easier.
How to create an App with Zapable
Zapable has tons of features that let you build an app to your taste and just how you want it.
Zapable has a good number of templates for your app. You can pick any of these templates and start editing them to your taste.
When building a website, the first step is to have an idea of what you intend to build.
The function you intend for this app to carry out and other things you want to include.
First, you need to have a mental picture and if possible have a book where you sketch things you want to do and how you want the app to operate.
Next thing is to go to Zapable and pick a template that best fits your idea, business model, and sketch.
You have to edit this template in such a way that every part is personalized for you or the business you are building this for. Creating an app with Zapable is very easy.
It features a Drag and drop model which helps you put things exactly where you want them to be without a single line of code.
As you build your app, you can add your videos and images as well as background and any color at all you want it to be.
Zapable Pricing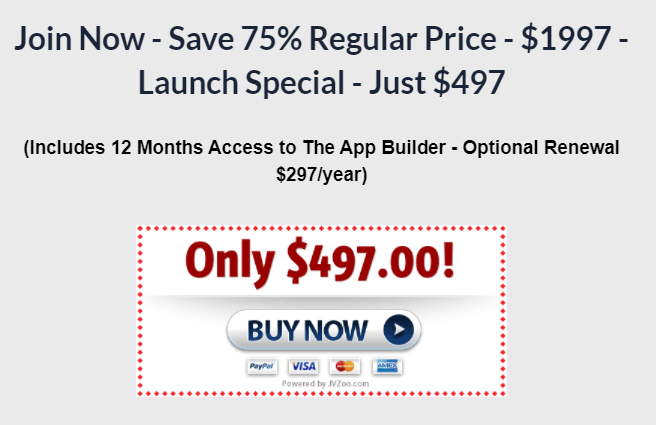 Before we talk about the exact price of Zapable you have to be extremely careful of internet Scammers as there are people out there claiming to know or teach how to create an app and all they know and want to know is to sell Zapable to you at a higher and inflated price.
Zapable costs nothing more than just $497 on the official website and this includes all the bonus that comes with it.
---
---
Is there any alternative to Zapable?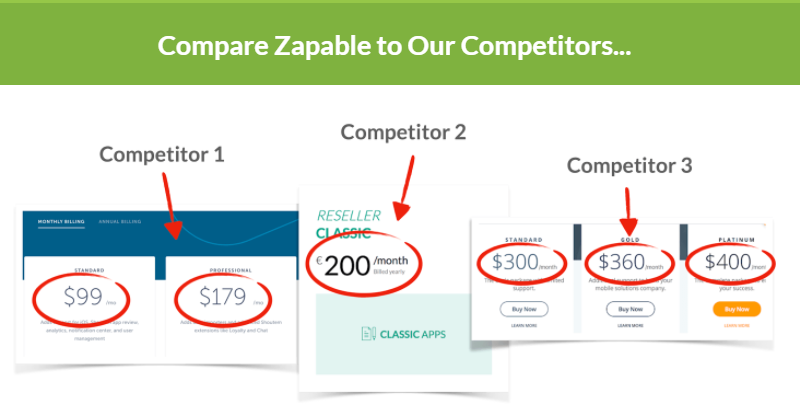 There are a number of alternatives to Zapable and there are not so bad but they are not as good either. Some of these include
Visual studio
G2 storefront
Xcode
Android studio
Firebase
Buildfire
Frequently Asked Questions
How can I create an app without coding? 
This is one of the most asked questions especially by individuals who are looking to enter into the world of computers and getting new knowledge about these things. 

The answer is simply yes. You can learn how to create an app without necessarily writing any line of code. 

Coding can be very complex and stressful and many people do not understand this language and to be honest you can't because it's a computer language. 

But yes! With Zapable, you can learn how to create an app without coding and it's easy and stress-free. 
Can one build an app without any money? 
The simple and short answer to that is yes. The more comprehensive answer to that is, there are different platforms in which one can use to build an app and not spend any money on that and one of them is sketchware.

 As you know, everything good and quality has a price and you have to pay for it somehow. 

However they are very small channels and mediums that allow zero fees to build apps, it's still possible.
 
As you would guess, there is a limit to the kind of app you can build. 
How much does it cost to build an app on Zapable? 
Zapable is arguably the best instant app builder and as you know, should be your number one go-to solution when it comes to building apps especially without the knowledge of coding. 

For these reasons, Zapable is not free but it isn't expensive either. Zapable costs about $297 to use. 
Conclusion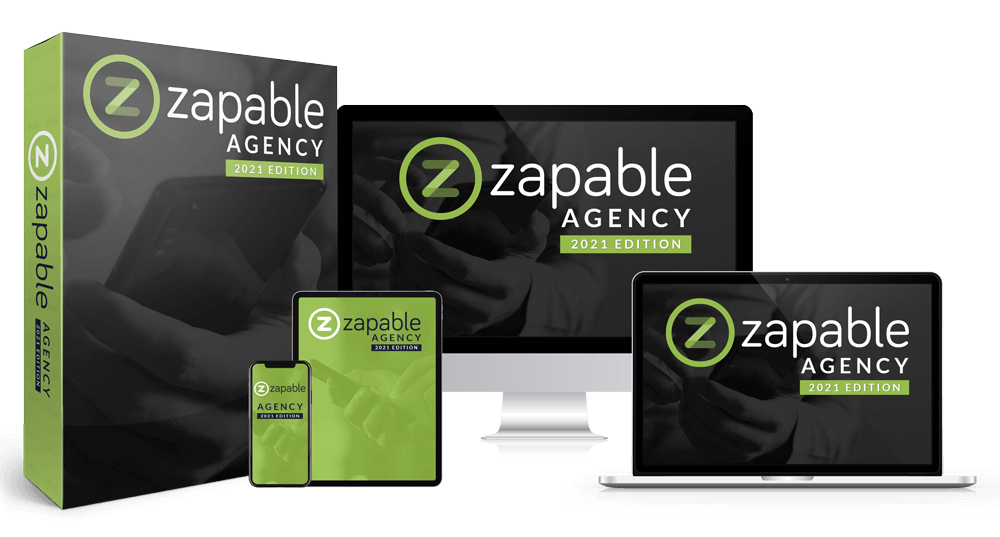 Technology is changing the world and it is changing more than you think.
Nobody wants to waste time to get things done and people are willing to pay more if it means the job to be done faster.
Zapable helps build an app instantly and gives results that are a lot similar to that of coding. Zapable is and should be the choice of every technology-inclined personnel and you can't go wrong with it.
It's now your turn,
I am very sure you have learnt about how to create an app within 5min without any coding knowledge in this article and you finally decide to use zapable, I would recommend you get zapable using these Discounted Links then you can gain access to our exclusive bonuses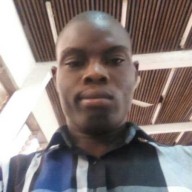 I'm an experienced media executive, complex problem solver in practice, a strategic thinker who can lead teams to deliver on corporate goals and revenue targets
I'm passionate about Blogging | Social Media Influencer | Digital Marketing | SEO and Content Optimization | Email Marketing, Lead Generation | Audience Development and Engagement | Food, Health, Technology, and Lifestyle Editorial… helping other creatives fulfill their goals.
Helping people tap into their potential is my passion & helping organizations find that talent is my job.
Feel free to contact me directly