Last Updated on 2 years by Go Review Rite
Fiverr is now more competitive than a few years ago and with many more freelancers joining the marketplace, it is becoming tougher for newbie freelancers to land clients.
Luckily, you can get your first sale and even more when you employ the services of top Fiverr SEO Gig Experts. These experts will help you dominate your rankings as well as boost the attractiveness of your gigs to help you get more clients.
Top Fiverr SEO Gigs Experts Recommend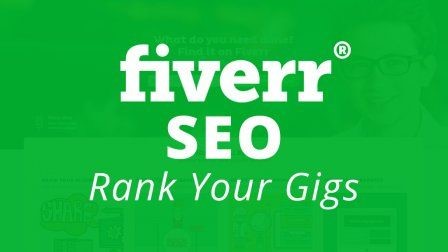 Haftz Osman Fiverr SEO Gigs Experts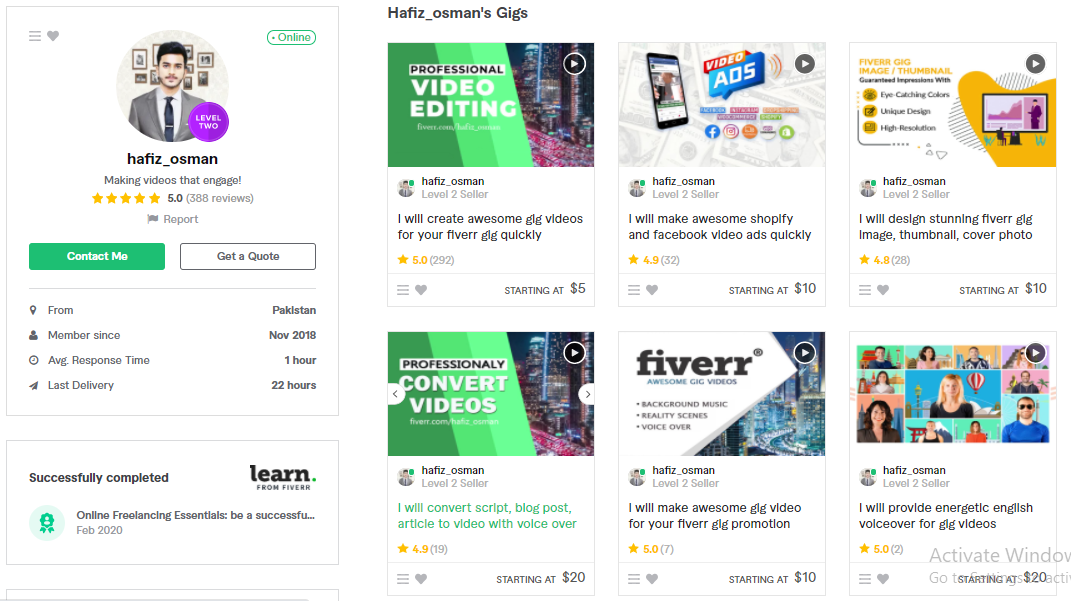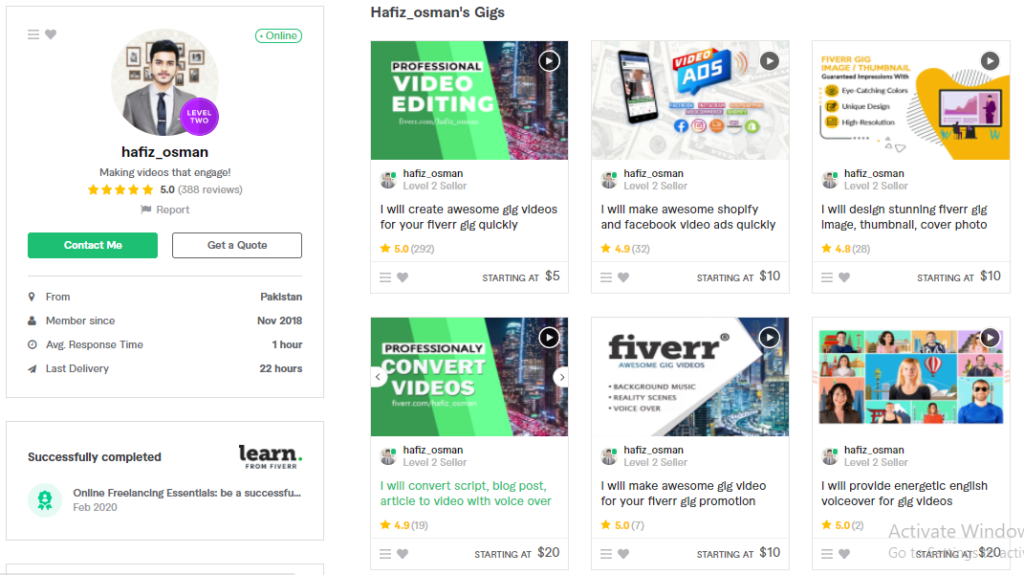 Whether you need attractive Fiverr gig videos or Fiverr gig images, thumbnails, or cover photos, you can rely on Haftz Osman to get you what you need. Haftz Osman is one of Fiverr's finest with tons of reviews and accolades to his name.
He is a graphic designing and editing expert. He actually holds a certification in graphic designing with several years of experience in providing editing services to clients.
Haftz Osman will help you boost your Fiverr Gig SEO by making your Fiverr gig more attractive to your potential clients. He will also boost your gig videos helping you get personal with your clients and send a message that clearly solves their problems. Haftz Osman focuses on professionalism which should give you an edge in the competitive Fiverr market.
With so many positive reviews to his name, he stands as one of the top choices for newbie freelancers looking to break into the competitive market.
Adil Bhutta Fiverr SEO Gigs Experts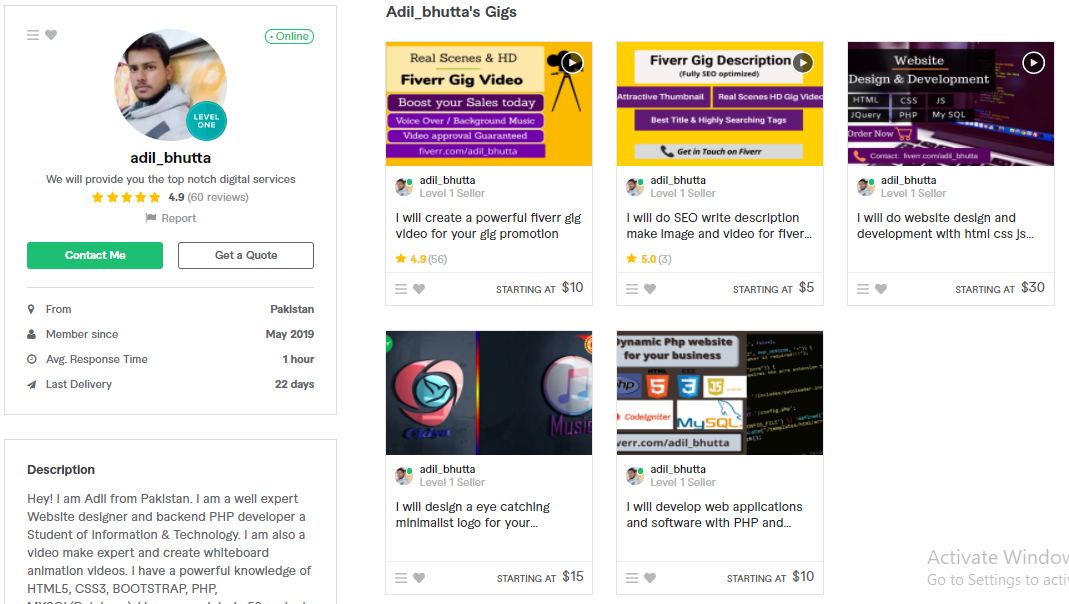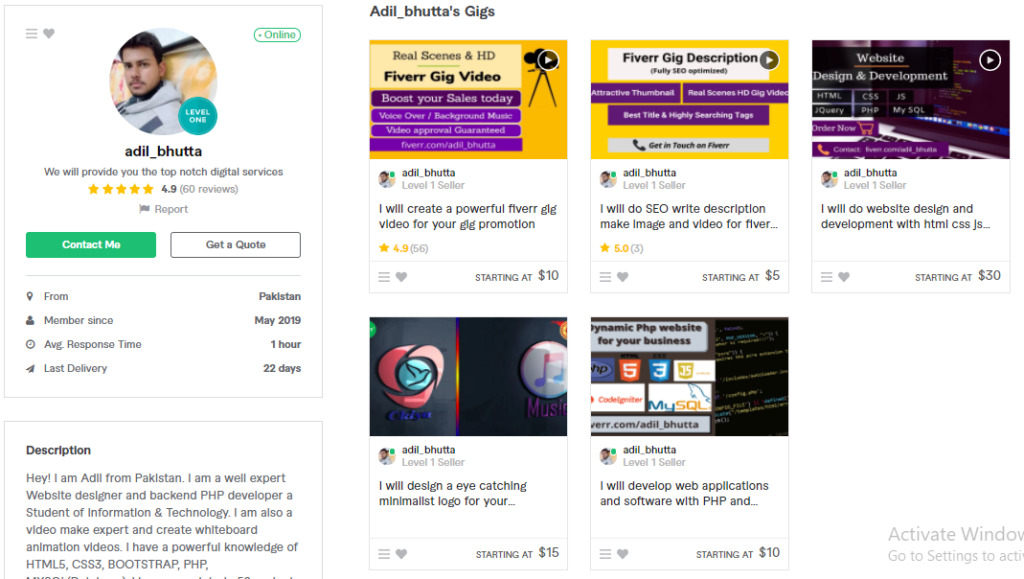 If you're a new seller, it could be quite frustrating landing a new order. Most clients would overlook newbies due to their lack of experience and seek higher level freelancers for their gigs. If you're looking to land a lucrative first order, you would not only have to stand out among the pool but you will also have to deliver the right service.
If your gig is getting the lowest views, impressions, and clicks, then you would surely need a boost. With Adil Bhutta, your chances of finding yourself on Fiverr first page and getting your gig ranked are high.
Adil Bhutta is a professional animation maker expert with lots of experience in the field. If you're a new seller looking to scale through the tons of freelancers competing for the same spot, Adil Bhutta will create a Fiverr gig video that will boost your sales up to 200%.
You can expect a top-notch service you can trust thanks to the tons of reviews on his page. The finished product will come with Real HD scenes, soft and pleasant backgrounds, and 100% copyright free giving all the chances in the world to land your first gig.
Saba Farhat Fiverr SEO Gigs Experts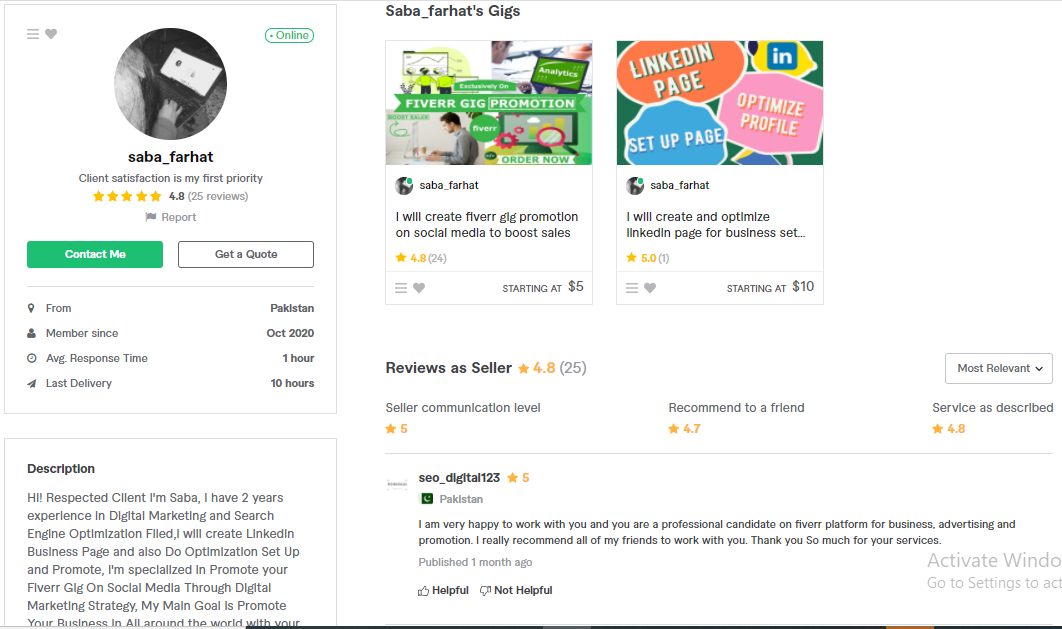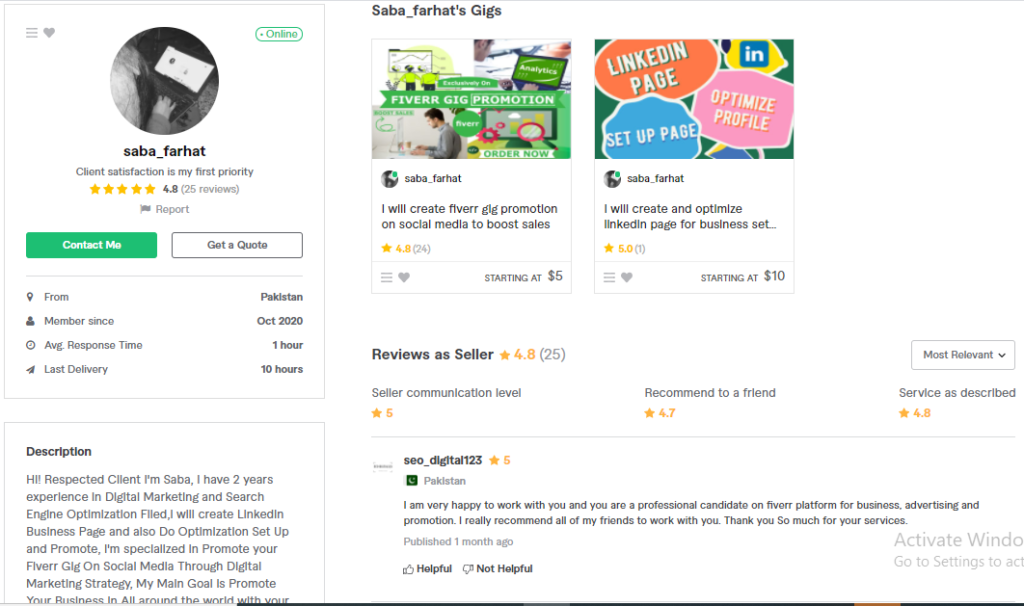 If you're looking for an expert with years of experience, then you can't go wrong with Saba Farhat. With up to 3 years of experience in Digital marketing and the SEO field, Saba Farhat is the right expert that will boost your Fiverr gig on all social media platforms giving you more impressions and clicks so that you can win massively.
This is an insane offer that would be too much to miss especially for newbie freelancers. With Saba Farhat on the job, you can be sure that your gig will get seen by the relevant and valuable audience so you'd get the right impressions and clicks that will land your first lucrative order.
However, before working with this SEO expert, you should ensure that you go through all the terms and conditions perfectly.
According to his offer, he won't guarantee that you will land your first sale after he works on your gig, however, you will find that you will get more impressions and be able to attract the right audience.
Omi Fiverr SEO Gigs Experts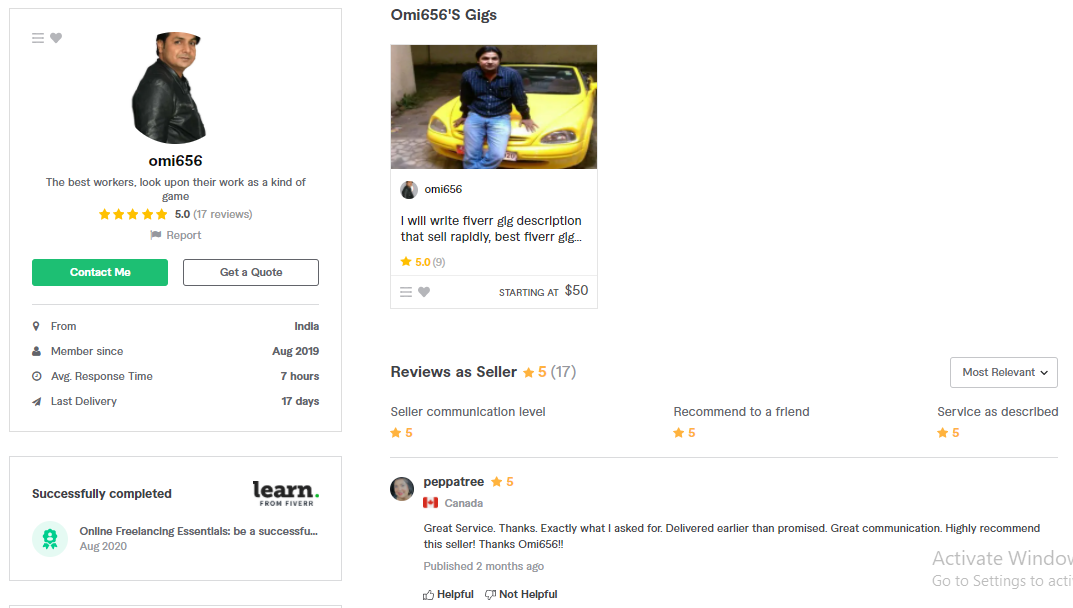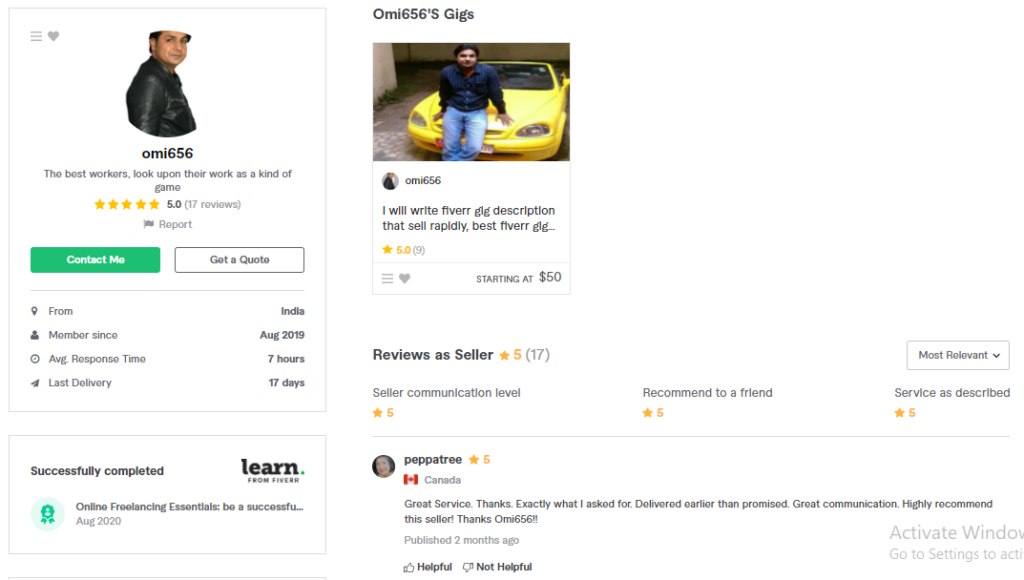 If your Fiverr Gig doesn't rapidly get a client, then you'd have some work to do and for that, you will need Omi. Being an SEO expert since 2012, Omi might be the best option for landing lucrative clients and cashing out big time from Fiverr.
Omi's services will not only help boost your gig engagement but also keep you landing new clients without end. This service offers perfect gig optimization including an SEO optimized description.
This will not only ensure that your gig shows up on the first page of Fiverr but also that you will stand out from competing freelancers. You also get a gig image and part lifetime consultation to ensure that your ranking always remains the best at all times.
Hammad8a1 Fiverr SEO Gigs Experts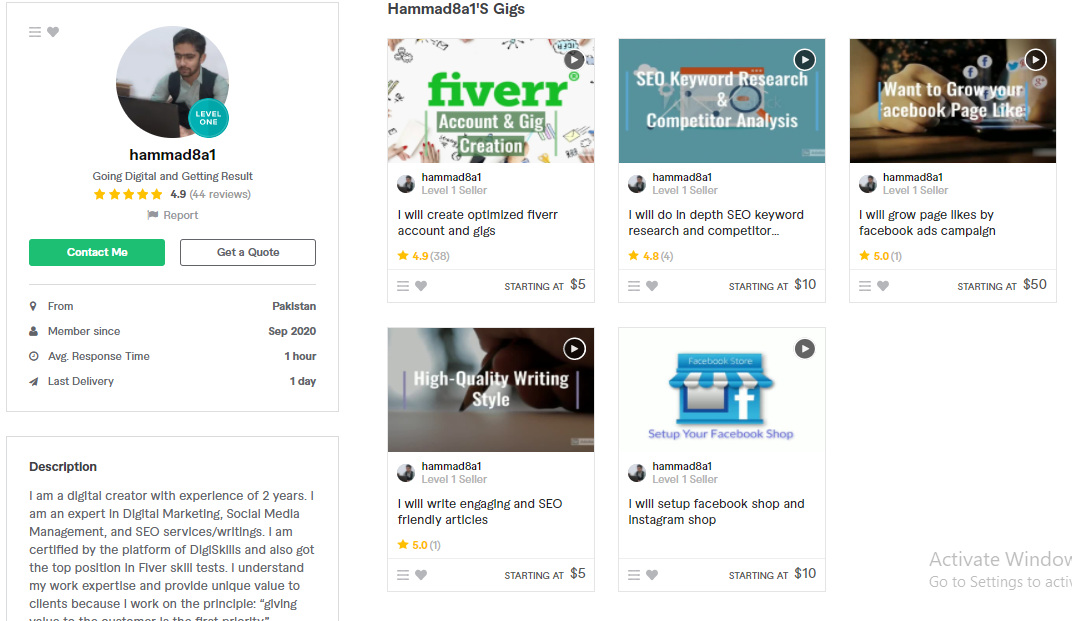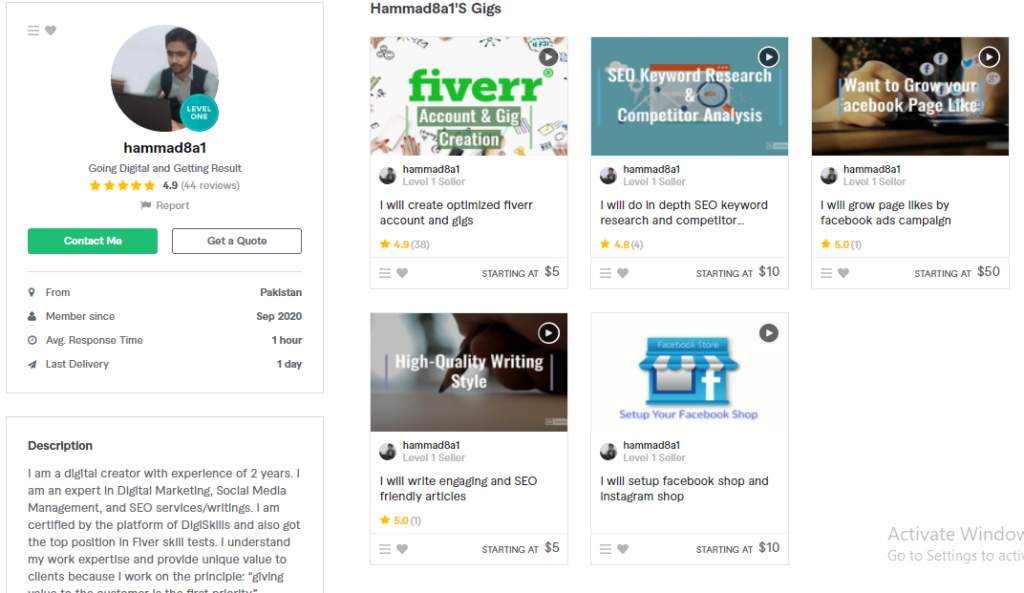 If you want a digital creator that doubles as an expert in SEO and Digital marketing, then you're better off having Hammad8a1 on the job. If you're facing stiff competition getting your gig to the Fiverr first page, then you would need some help with Fiverr ranking factors.
You get to deal with keyword research, SEO, and several other advanced ranking factors that will determine if your gig will get to the first page.
Hammad8a1 will not only help you get your gigs to the top page, but he will also help you create a seller account on Fiver. From there, he will guide you on creating an SEO optimized gig with low competition keywords that will help you land your very first client.
You also get a deep market analysis that should help you target the right audience. You will also get a custom description for your specific gig which helps to boost SEO and also give clients the necessary info on what you have to offer.
Fiverr SEO Gigs Experts FAQ
Does Fiverr SEO Work?
Yes, Fiverr SEO would help you place your gigs in the right spot to attract the best clients even though you're a newbie freelancer. 

With the right keywords, images, cover photos, thumbnails, and videos, you should get your gigs working just right. 
Are SEO Gigs on Fiverr Any Good?
That would depend on the SEO expert you go for. With the right pick, you should be able to get your Fiverr gigs to the first page, as well as, landing the best clients. 
Are Fiverr SEO Services safe for beginners?
Yes. If you're looking to land lucrative clients as fast as possible, then Fiverr SEO services might be all you need to get there as fast as possible.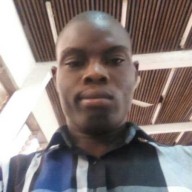 I'm an experienced media executive, complex problem solver in practice, a strategic thinker who can lead teams to deliver on corporate goals and revenue targets
I'm passionate about Blogging | Social Media Influencer | Digital Marketing | SEO and Content Optimization | Email Marketing, Lead Generation | Audience Development and Engagement | Food, Health, Technology, and Lifestyle Editorial… helping other creatives fulfill their goals.
Helping people tap into their potential is my passion & helping organizations find that talent is my job.
Feel free to contact me directly