Last Updated on 6 months by Go Review Rite
Struggling to get your first sale as an affiliate on clickbank and you don't want to spend a dime on adverts?
If that is you, then you are in the right place as I am going to show you 10 legit ways to drive traffic and targeted buyers to promote clickbank products or offer for free without spending a dime on ads.
These free traffic sources are great mediums to drive residual traffic over and over again to your affiliate offer and make affiliate commissions on auto pilot.
While most of these free traffic sources for promoting ClickBank products or offers may take time to produce results, others are just as fast as paid advertising.
So it is very important you know what you are getting into, I would like to state the advantages and disadvantages of using free traffic over paid advertising and vice versa.
so that you can be absolutely sure that this is what you want.
Advantages of Free traffic over Paid traffic to promote clickbank products (advertising)
The most obvious of them all is that you don't need to spend money over and over again to get people to your offer page.
It can continue fetching your traffic over a long period of time (over a year) passively if done right.
It converts better than some paid traffic source
Disadvantages of Free traffic over Paid traffic to promote clickbank products (advertising)
It is not advised to use it if you want instant traffic
It is not viable for promo sales
It requires time and energy compared to paid advertising
Now we got that settled, let's dive right into the exact traffic source that is totally free and gives you the ability to Target your buyers.
1. Medium
Medium is a free blogging platform that allows you to post articles or stories on their platform.
The platform has a very strong reputation on Google search algorithm and if your article is great, you should rank high very quickly on the search engine result pages otherwise called SERPs.
To promote your clickbank products using free traffic from medium, you can choose from a variety of contents related to your niche to write on.
This could range from how-to to product reviews to promote clickbank products.
You would be capitalizing on the authority of the medium platform to rank high on search engines and drive free SEO traffic to your Clickbank products.
Note that: you need to state your affiliate disclosure like "The links contained in this product review may result in a small commission if you opt to purchase the product recommended at no additional cost to you. This goes towards supporting my research and please know we only recommend high-quality products" this will prevent you from having your medium account suspended.
2. Quora
Quora is a question and answer website that allows users to ask questions as well as answer questions being asked.
Out of every 10 question based queries on Google search quora has over the capability of appearing in the first page over 4 times.
This is because it has a lot of users and hundreds of user generated contents on an hour basis.
It would be a waste of time to tell you that there is massive traffic to be tapped from the quora platform.
So you need to promote your clickbank products or offers using free traffic from quora, this is exactly how to go about it.
How to promote ClickBank Products or Offers with Quora
Time needed: 5 minutes.
So you need to promote your ClickBank products or offers using free traffic from quora, this is exactly how to go about it.
Create Quora Account

Create a quora account (it takes less than five minutes and it is absolutely free)

Find Quora Questions

Find questions relating to your niche or product. It is quite easy to find in quora because all questions are grouped into categories.

Research Best Ranking Question

Use search optimization tools to find out what quora URLs are ranking high on Google for their question query.
Note that: You should not link directly to your affiliate product because it can get your Quora account suspended. because the platform doesn't like to spam their platform with affiliate products.
So instead of linking directly to the affiliate products' sales page, you need to create a bridge page between the products.
Since you don't want to spend money on any expense landing pages builder, then Medium, Google site, or Convertkits can be used to build your landing for free.
Or you would like to invest your money in a very cheap landing builder then you might the best all-in-one solution landing builder for WordPress.
Finally you shouldn't spam the platform but rather provide value with your content.
From my experience answering questions with specific questions converts better.
For instance you can use those targeted keywords.
"Best email marketing tool"
"Top landing pages builder"
"Getresponse reviews" etc
I hope you will try Quora today to promote your clickbank affiliate products to get your first sale.
3. Facebook Niche Targeted Groups
Facebook is one of the most viable online platforms for both paid and free traffic.
In fact, you can promote clickbank products or offers to get as most free traffic as you would need to smash the leaderboard of any product launch from Facebook alone if you know how.
So how is this done?
I will tell you.
Since Facebook is a generic social media, advertising your offers on your timeline would be a futile effort.
The best way to go is to use niche targeted groups.
For instance, if I want to promote digital products relating to search engine optimization, all I need to do is to target groups on Facebook that are specifically for people who would be interested in search engine optimization such as bloggers and internet Marketers.
I usually recommend you do an average of three of these groups.
After which, I build my reputation by providing value in the form of answers to questions and posting useful contents for free with no upsells (at least they won't see our main goal).
The main aim of providing value is to get them to know you and trust you to a reasonable extent.
Once you notice your authority in the group has grown to a reasonable extent, you can now start recommending different products to them using a content based method.
For instance, you can't just go to a group and post something more of a sales copy, most moderators would make it as spam and your reputation would go down.
So it is best to focus on a problem and solve it using long contents and then recommend your clickbank products beneath it.
So for instance, I want to promote a YouTube keyword research tool, I can write a detailed post on how to rank on YouTube and then beneath it, recommend the tool (which is my clickbank affiliate product).
Be careful not to spam the groups, the less often you promote to them and provide value, the more they trust you.
In the world of internet marketing, content is King. But how do you get your content to the right eye balls.
On twitter, it is quite direct. Make use of hashtags.
You can create great contents relating to your clickbank products and add links to your landing page, always remember, the more value your contents gives, the more likely people are to click on your link.
You can then get them placed in front of your target audience using trending hashtags related to your niche.
You need to have many Twitter followers, right before you will get your first sale. Use this strategy to drive sale to your affiliate products or offers
To promote clickbank products on Twitter with any followers to get sales,
You just need to search specific keywords such as "I need money" "I want to lose weight" and reply their tweets to your offers you are promoting.
Those keywords are highly targeted to the audience that need help and are looking for solutions to their problems.
5. Pinterest
Pinterest is another great source of free traffic for internet Marketers, Pinterest is my favorite traffic source because it's help me generate a lot of sales online
With Pinterest, you can drive tons of traffic to your clickbank sales offer anytime you wish for free.
All you have to do is create a Pinterest business account and a board to interact with other users and pin with great pictures, mainly charts and infographics related to your niche.
Implementing the best Pinterest seo strategy like optimize your title and pin description and with right tags with your pinned photo would ensure that they show up for your target viewers
One great advantage Pinterest has over other social media platforms is that Pinterest is an image search engine and almost all the audience are from the United states.
Pinterest is so powerful that Neil Patel uses it to drive over 10 thousand pageviews to his blog on a daily basis.
Use a free tool like a canvas to design your pin and If you are a lazy affiliate marketer, then you should considering creating a pin automatically and schedule with this recommend Pinterest scheduling tool
To be with you, if you have not been using Pinterest you are missing a lot of sales because Pinterest users have a high buyer intent audience.
6. LinkedIn Niche Targeted Groups
LinkedIn is one of the most moderated social media with a lot of people who know exactly what they are doing.
These are professionals in their fields and a good majority of them have the purchasing power to buy your clickbank products.
To get started, consider building a professional LinkedIn profile and start making connections with people in your niche.
One the effective way to promote clickbank products or offers on LinkedIn is by promoting you products in various targeted linkedin groups.
Do you know that LinkedIn has groups just like that of Facebook, it's time you get your products seen by many people on LinkedIn groups because the groups comprises professionals in different niches.
7. Reddit
Reddit is another passive way of getting free actual buyers traffic to your clickbank product.
Reddit has the capability to provide you with a lot of free buyer traffic if utilized properly.
Few months back, I didn't know what Reddit was, so I would equally assume there are a lot of you reading this right now that have never taken time to find out how Reddit works despite you having been hearing of it.
Reddit is a platform that consists of a large community of people seeking and sharing various pieces of information to help them to scale their online as well as offline businesses.
As long as you find a suitable community for your niche, Reddit can be beneficial in bringing traffic to your blog.
It is one of the widely used free traffic sources for affiliate marketing.
How to Promote Clickbank Products on Reddit to Get Free Traffic
Join the Reddit community by registering at reddit.com
Post valuable information in the community tagged with the niche of the Clickbank product you want to sell and gradually grow your reputation.
Insert your squeeze or sales page link once in a while and drive free traffic.
8. Instagram Influencer
Using Instagram influencers to promote your clickbank product is more like a paid form of traffic but is far cheaper and can produce immerse results.
Most people offer the influencer a free sample of the product or a yearly subscription (if the product is subscription based) in exchange for the promotion.
This actually involves partnering with an Instagram influencer (An Instagram user with a lot of loyal followers) to promote your product to his audience on a mutual deal.
If you have to pay money, it would no longer be free traffic as said, but you should know that offering cash rewards gets the work done faster.
9. TikTok
TikTok is fast becoming one of the fastest growing video sharing platforms and has become extremely popular across the globe for his entertaining character.
There is no doubt that TikTok receives billions of video views every month from millions of people both on the platform and on other platforms.
So do you want to find out how you can get a share of their traffic for free to promote your ClickBank product?
Let me show you the three most effective ways to do so.
#1. Partnering with content creators and Influencers.
Creating contents for your clickbank product on TikTok may be too expensive for a solo entrepreneur, so you can partner with those who already make videos as a side hustle or even for a living.
They get to promote your clickbank product to their audience in exchange for a free sample of your product.
#2. Consider going live on TikTok
If you have followers on the TikTok platform already, you can consider hosting a live webinar on the platform for free.
It can be a product review webinar or a product launch webinar to get people aware of your clickbank product.
#3. Add your product link to your Bio
Your bio is the first place people get to interact with you on all your social media platforms.
Adding your Clickbank product link to your TikTok bio can drive traffic passively over and over again to your product page.
However, if you open a tik Tok account today, you are not allowed to add a link to your profile.
But don't give up, this little hack will help you do it..
Simply join the TikTok tester program using these steps:
Go to your TikTok Profile.
Tap the three dots in the top right corner.
Scroll down and select "Join TikTok Testers."
Tap "TestFlight" and download it in the App Store.
Tap "Start Testing" and download the new version of TikTok.
Open up your TikTok profile again.
Tap "Edit Profile."
Add your link in the "Website" field
And if this method doesn't work for your then considering following this TikTok Bio link tutorial
10. Google Sites.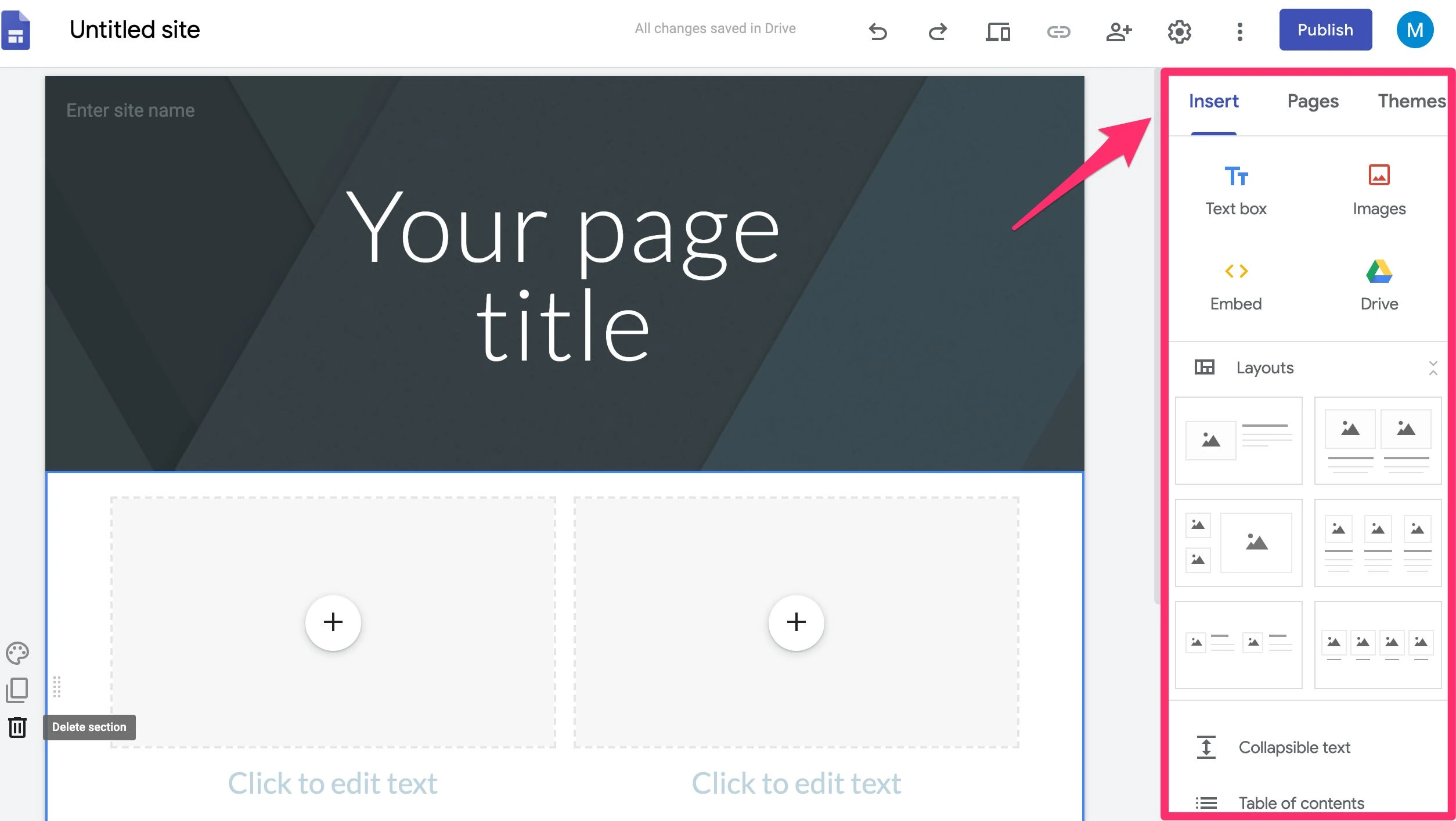 If you search the web quite often, you would have come across some web pages that are on the domain sites.google.com.
These webpages are hosted on Google and have a very high chance of ranking for low competitive keywords.
You can use this highly SEO responsive opportunity to drive free traffic to your clickbank products.
Specialize in writing reviews and answering questions with a moderate search volume and you would be driving traffic in no time.
You can use various up-to-date SEO data tools like ahrefs and SEMRUSH to find easy-to-rank keywords.
This method converts like crazy to sale because Google sites have a high Domain Authority that can rank your content faster than your own web if you have websites.
Meanwhile, you have done it in the right way right! I mean do your research properly and publish original and longer SEO-friendly articles of about 2,000 words and above longer.
You are not good at copywriting, that is not bad, just head over to Fiverr these best and talented writers to help you out, this is the secret of my success.
Recommendation
Since you have been online you haven't made any money on Clickbank? Are you still struggling with affiliate marketing or you would like to skyrocket sales?
I will recommend you enrol for Affiliate Millionaire Free Training it's the ULTIMATE 'step-by-step' A-Z guide of going from $0 to $500+ per day with affiliate marketing.
The training has been created to suit all levels of marketers from newbies to those who are experienced.
P.S – I"m very sure you would to Watch This Free Video showing "Discover How To Went From Newbie To Generating $1,493,482.70 Affiliate Commissions in Clickbank in 1 Year"
You can learn more about Affiliate Millionaire Free training HERE
Wrapping Best Ways To Promote Clickbank Products Or Offers
Now you have those free traffic sources at your fingertips, to promote your clickbank products.
It is important that you do not make the mistake of trying to tap traffic from all of them.
Instead, focus on one of the traffic sources where your target buyers are most active and then dominate it completely.
You can also choose to drive the free traffic to your opt-in page where you can build your own email list and market to them anytime. Check my options on choosing your email marketing tools
I hope that you have great value with this content? If yes please kindly share it with your friends and drop in the comments section below the traffic source you are going to start with today!
I'm an experienced media executive, complex problem solver in practice, a strategic thinker who can lead teams to deliver on corporate goals and revenue targets
I'm passionate about Blogging | Social Media Influencer | Digital Marketing | SEO and Content Optimization | Email Marketing, Lead Generation | Audience Development and Engagement | Food, Health, Technology, and Lifestyle Editorial… helping other creatives fulfill their goals.
Helping people tap into their potential is my passion & helping organizations find that talent is my job.
Feel free to contact me directly